Designing A User Interface (UI): An Ultimate Guide
Are you a software developer or web designer looking for the ultimate guide to designing a user interface (UI)? In today's digital world, an effective UI is more important than ever. It can make or break your website, app, and product experience. With this in mind, it's essential that you understand how to design a great UI.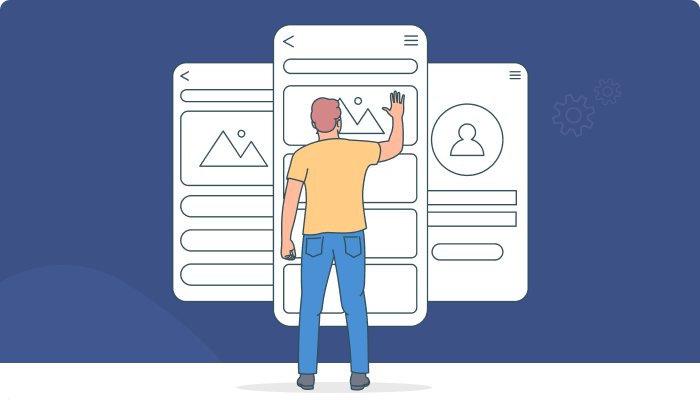 In this article, we'll be exploring everything there is to know about developing amazing UIs. We will look at key aspects of design like color theory and typography as well as provide tips on usability testing and accessibility compliance. Whether you're just starting out in UX/UI design or already experienced in the field, this guide covers all bases so everyone can benefit from its advice!
Basic Things to Consider While Designing UI
Designing a user interface (UI) is a crucial aspect of creating digital products, as it impacts the user experience and can greatly influence their engagement and satisfaction. Here are 5 basic things to consider while designing UI:
1. User Experience: Make sure that your UI design is user-friendly and provides a smooth experience when users navigate and interact with the interface.
2. Accessibility: Ensure that all users, including those with disabilities, can easily access and use the interface.
3. Color and Contrast: Choose colors with high contrast that are easy to read and attractive.
4. Responsiveness: Design your UI elements to be responsive to different screen sizes and devices.
5. Consistency: Make sure that the design elements are consistent across different screens and features.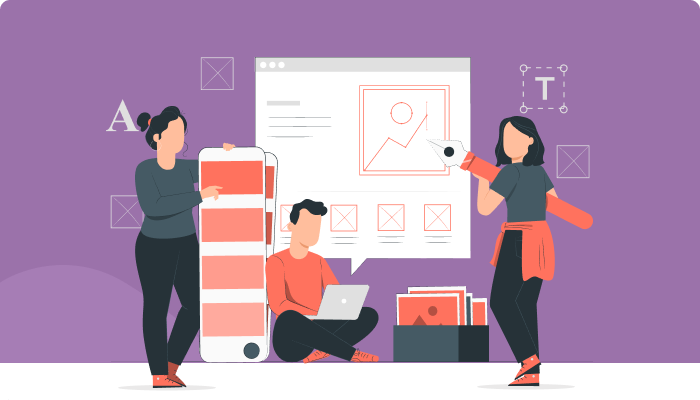 5 Best Tools for Designing Engaging and Creative UI
Designing a user interface (UI) is an important step in creating a successful product. To do this effectively, having the right tools on hand can be incredibly helpful - and that's why it's important to consider which ones are the best for designing UI. Here are five of the top options for designers looking to create great UIs.
Sketch
Sketch is one of the most popular tools used for designing user interfaces. It offers a range of features that make it great for quick prototyping and creating UI elements like buttons, menus, drop-down lists and more. With its intuitive design capabilities, Sketch makes it easy to create complex designs with multiple layers in no time at all. Plus, it comes with several plugins that can drastically enhance your workflow when designing UIs.
The drag-and-drop feature allows users to quickly assemble different components into a single unit without having to manually code each element from scratch. This helps save a lot of time since there's no need to write any codes or scripts which would otherwise take up hours or days if done by hand. Additionally, the wide variety of available templates allow designers to customize their projects according to their needs and preferences.
Adobe XD
Adobe XD is quickly becoming the go-to tool for designing user interfaces. It's a great choice for both experienced designers, as well as those just starting out in UI design. Adobe XD makes it easy to create dynamic designs that are visually appealing and engaging.
XD has many features that allow users to collaborate on projects with ease, such as sharing links directly to prototypes or commenting on specific elements of a prototype. In addition, XD provides plenty of resources and tutorials so even novice designers can learn how to use its tools effectively. Finally, XD also includes integration with other Adobe products like Photoshop, making it an ideal platform when creating complex designs across multiple applications.
Figma
Figma is a powerful and versatile user interface (UI) design tool. It offers simple yet comprehensive capabilities for designing interfaces that are not only attractive but also highly functional. With Figma, users can quickly create prototypes, share them with others and collaborate in real-time to fine-tune the designs until they achieve their desired result.
What sets Figma apart from other UI tools is its focus on collaboration. Unlike Adobe XD or Sketch which require an additional plugin for collaboration, Figma makes it easy by providing built-in features like commenting, version control and team library sharing. This allows teams to work together efficiently as everyone has access to the latest updates at all times. Plus, Figma's cloud storage feature ensures no changes go unnoticed - ensuring every iteration gets captured accurately.
Invision Studio
Invision Studio is a powerful UI design tool that helps designers quickly mock up and iterate on their designs. With an intuitive, drag-and-drop interface, it makes the process of creating highly functional user interfaces a breeze. It also provides access to components libraries with ready-made elements for faster prototyping.
The platform has advanced options such as auto responsive layouts which allow users to create adaptive websites and apps without any coding knowledge. Furthermore, its collaboration capabilities make working in teams easier by allowing multiple people to work simultaneously on projects from different locations. This feature gives stakeholders the opportunity to share feedback directly into the program and provide real time insights.
Mockframe
Mockframe is a user interface designing tool developed by the company of the same name. It provides a platform for designers to quickly and easily create prototypes with its drag-and-drop technology. Mockframe's framework allows you to add elements, customize colors, change fonts, resize components and more - it even supports integration with InVision Studio!
What makes Mockframe so great? Its ease of use. With just a few clicks you can start creating your own UI design from scratch. And if that wasn't enough, there are also advanced features such as version control, workflow automation and multiple device previews available in this comprehensive UI creation toolset.
No matter what your expertise level is or how complex you want your project to be, Mockframe has something for everyone! From experienced professionals who need access to powerful toolsets to beginners looking to learn the fundamentals of UI design, they'll find plenty of helpful resources here. So why wait? Get started today and see what all the buzz is about!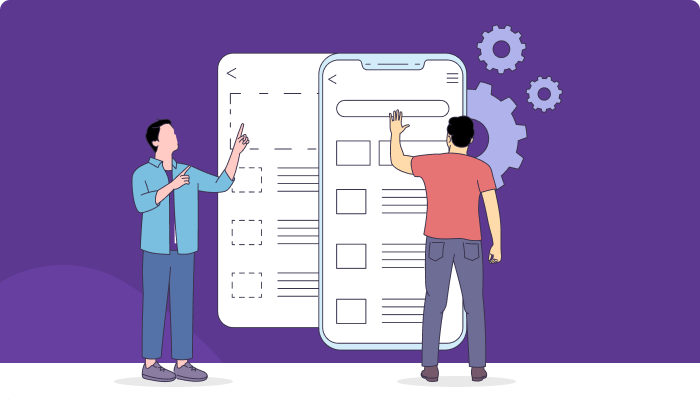 5 Best Practices for Designing an Effective User Interface
Designing an effective user interface (UI) is essential to ensuring a positive experience for users. There are five key practices that should be followed when creating a UI: maintaining consistency, optimizing usability, following trends, including accessibility features and testing the design.
Consistency
Maintaining consistent elements in the UI helps create familiarity with users as they navigate through different pages or screens. This includes not only visual elements like color schemes but also controls such as buttons, links and other interactive components. Keeping things consistent makes it easier for users to use all parts of the UI without having to relearn how each feature works.
Usability Optimization
Usability optimization involves balancing between making sure there's enough information on the page and avoiding too much clutter. It requires thoughtful placement of text, images and other content so that important details stand out while unnecessary distractions are minimized. Usability also depends on appropriate interactions being used - from menus and dropdowns to forms and pagination - which depend on context-appropriate designs.
Trend Awareness
Following trends doesn't mean blindly copying what everyone else does; rather, it means understanding current best practices for designing intuitive UIs and applying those principles to your own design process. Trends change over time, so staying up-to-date can help make sure your product remains modern and relevant in an ever-evolving industry landscape.
Accessibility
Including features that support accessibility standards is increasingly becoming a requirement in many industries due to its importance in providing equitable experiences to people with disabilities or impairments. Making sure webpages display correctly across different devices is another important factor when considering accessibility requirements during design stages.
Testing
Lastly, proper testing must be done throughout development cycles to ensure any changes made do not lead to unintended consequences resulting in subpar performance or user frustration issues later down the line. Continuous updates based on feedback gathered during tests can help improve both user engagement levels as well as overall satisfaction rates among customers who use your product or service regularly.
In order for UI designers to produce high quality products that offer great experiences for their users, these five best practices must be taken into consideration at each stage of the design workflow. From concept creation all the way through launch day, keeping these core concepts top of mind will go a long way towards helping designers craft amazing UIs every single time!
Get started with the leading Designing UI Tool today! Sign Up 14 Day Trial
Conclusion
Designing a user interface (UI) is not an easy task, but if done correctly it can have a huge impact on the success of any digital product. To design an effective UI requires careful planning and consideration of various elements to ensure that your users feel comfortable navigating through your application or website. It's important to understand the basics such as color theory, typography, and usability before you begin designing your UI. Additionally, there are several tools available to help with this process like Sketch, Adobe XD, Figma, InVision Studio and MockFrame which allow designers to create stunning designs quickly and easily.
Why Choose 500apps?
#1
All-in-One Suite with more than 50 apps
#2
Everything you need today and in the future for all departments
#3
Unbelievable value - the lowest pricing you will ever find
#4
Hosted in 6 locations for compliance and blazing speeds
#5
24/5 Support - FREE chat, email and phone
#6
Uncapped features - limits you will never reach humanly
#7
Managed and maintained everyday by a dedicated team
#8
No downtime - comes with a 99.9% uptime guarantee
#9
Supports a number of international languages
#10
We've everything covered - 90k+ trust us with their business
Join the SaaS Revolution
All-in-One Suite of 50 apps

Unbelievable pricing - $14.99/user

24/5 Chat, Phone and Email Support