11 Best KPI Dashboard Software and Tools
Are you looking for the best KPI dashboard software and tools to help you measure, monitor, and analyze your business performance? In today's ever-evolving digital landscape, businesses must remain competitive by staying up-to-date with the latest trends in data analysis. The right KPI dashboard can be a powerful tool for measuring key performance indicators (KPIs) essential to understanding your company's performance.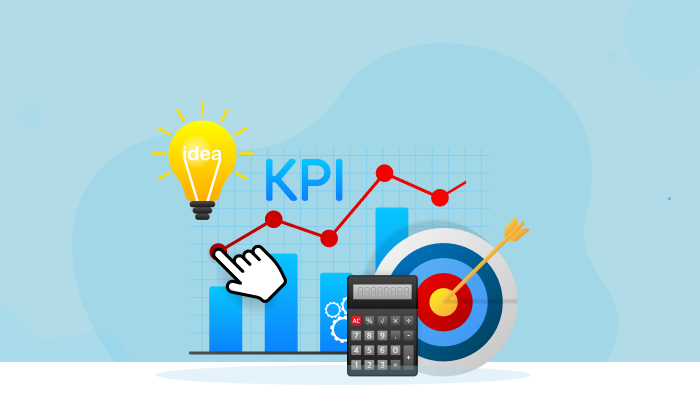 This article will discuss 11 of the best KPI dashboard software and tools available today. We'll detail each one so you can make an informed decision when selecting one to use. There is something here for every type of organization, from cloud-based solutions to open-source options. You'll learn about real-time analytics, interactive dashboards, automated reporting, and more features, all designed to give you insight into your company's performance.
What is KPI Dashboard?
A KPI dashboard is a project management tool used to measure performance and track progress. It allows businesses to monitor key performance indicators (KPIs) to identify areas for improvement, guide decision-making, and create strategies for success. KPIs represent specific targets within an organization; they can range from financial goals like sales revenue or profits to operational objectives such as customer satisfaction scores or employee engagement ratings. Examples of common KPIs include cost per acquisition, time spent on task completion, and website traffic numbers.
KPI dashboards help organizations prioritize tasks and stay focused on desired outcomes.
Dashboards provide easy access to data analysis to review progress against benchmarks.
Users can customize dashboards with relevant graphs and charts for further insight.
KPI dashboards offer an effective way to evaluate business performance and stay ahead of potential issues.
Leveraging KPI dashboards with other project management techniques ensure team members remain focused on reaching the company's overall objectives.
How to Choose the Right KPI Dashboard Software
Choosing the right KPI dashboard software is essential for tracking objectives and managing key performance indicators (KPIs). This software can measure success across various departments and campaigns, such as marketing. It's important to understand what features are needed to accurately predict progress. Points to consider include:
Consider whether the KPI dashboard tool supports the KPIs you want to track.
Ensure the platform allows you to share insights with stakeholders or collaborate on reports easily.
Look for a system that integrates with other platforms so data from multiple sources can be combined into one comprehensive view.
Evaluate the cost associated with each option before making your selection.
Ensure you have access to all the features necessary for growing businesses without breaking the budget.
Key Features to Look for in a KPI Dashboard Software
When looking for the best KPI dashboard software, it's important to consider which features and capabilities will meet your needs. There are a variety of options available that can make managing KPIs easier. In this article, we'll look at some key features to look for in KPI dashboard software.
Customizable dashboards to track important metrics.
Ability to quickly create custom reports.
Automated alerts when certain thresholds are reached.
Securely stored data.
Audit trail feature for full control over data access.
Integrations with other applications like Salesforce and Google Analytics.
By understanding these key features and keeping them in mind when researching KPI dashboard software solutions, you'll be better prepared to choose the right one for your organization's unique needs. With the right tool in hand, tracking KPIs becomes much simpler, and insights gained become far more meaningful.
11 Best KPI Dashboard Software and Tools
There's no shortage of options when it comes to finding the right KPI dashboard software and tools. But with so many out there, how do you know which one is best for your business? To help make the decision simpler, we've rounded up a list of 11 top-rated KPI dashboard software and tools.
Whether you're looking for an easy-to-use platform or robust features like custom reporting capabilities, these solutions offer something for everyone. Some are cloud-based, while others can be installed on your server. Many also have flexible pricing models that allow businesses to scale their usage as they grow.
From drag-and-drop interfaces to interactive visualizations, each of these products has been carefully evaluated in terms of usability, performance, and customer support, ensuring you always get the most from your investment. These eleven KPI dashboards represent some of the best options available today; take a look and find the perfect solution for your business!
Google Data Studio
Google Data Studio is a powerful KPI dashboard software and tool that makes it easy to create stunning data visualizations. It allows users to quickly connect various sources of data, including Google Ads, Google Analytics, YouTube Analytics, and more. With intuitive drag-and-drop features, users can easily build beautiful dashboards in no time.
The platform's flexibility means users can customize their visuals according to their needs. The platform offers plenty of options for customizing colors and fonts and embedding interactive charts and graphs into presentations or websites. Plus, with its mobile app offering on iOS and Android devices, users can stay updated on insights even when they're away from the office.
Klipfolio
Klipfolio is a powerful dashboard software for businesses of all sizes. It offers an extensive range of features to help you quickly and easily create custom dashboards that can be used to analyze, visualize, and track key performance indicators (KPIs). With Klipfolio, you can collect data from multiple sources such as databases, spreadsheets, APIs, and more. You also have the option to embed public or private charts in web pages using HTML snippets. Furthermore, ready-made templates are available so that users don't need to start their projects from scratch.
The platform's user interface makes it easy for companies to get up and running with KPIs right away. Users simply drag and drop various components like tables and graphs onto the dashboard canvas and customize them according to their needs. They can even add interactive elements like buttons, filters and sorting options, making it easier to explore data in detail. Additionally, they can set automated alerts when certain KPIs reach specific targets so that they always stay on top of things.
Tableau
Tableau is a popular data visualization and business intelligence tool used by businesses to analyze their data. It offers an intuitive user interface for analyzing data without having to use complex queries or coding languages. With this software, users can create interactive dashboards with drill-down capabilities that give them the ability to explore deeper insights from their datasets.
Here are some of the key features of Tableau:
Interactive Dashboards: Create custom visualizations and dynamic charts in real-time.
Data Connectivity & Sharing: Easily connect different information sources and securely share your work with others.
Advanced Analytics: Utilize advanced analytics tools such as predictive modeling, clustering and forecasting.
Natural Language Queries: Ask questions about your data using natural language processing techniques.
Tableau provides a comprehensive platform for creating stunning visuals, uncovering meaningful insights from large amounts of data, and collaborating on projects with team members.
Geckoboard
When it comes to KPI dashboard software and tools, Geckoboard is worth considering. It has a range of features that make it an attractive option for businesses that need to track metrics in real-time. The user interface is intuitive and simple enough even for non-tech-savvy people to use without any issues.
The customizability options available when creating dashboards make Geckoboard stand out from its competitors. You can select various widgets such as graphs, charts, tables, etc., or you can choose to embed your own HTML/CSS code, allowing you to create highly customized visuals tailored specifically to your needs. What's more, all of these elements can be integrated with data sources such as Google Analytics or Salesforce so that your dashboards display up-to-date information at all times.
Power Bi
Power BI is a powerful business intelligence (BI) platform from Microsoft. It can help you create interactive visuals, reports and dashboards to gain insights into your company's data. With Power BI, you get access to intuitive visualizations that make it easy for stakeholders to understand the most important information at a glance.
What makes Power BI stand out from other KPI dashboard software and tools? Here are three great features:
Artificial Intelligence (AI): AI capabilities such as natural language queries provide users with an easy way to ask questions about their data in everyday language. This allows them to quickly find answers without having to write complex queries.
Connectivity: Power BI can connect with various sources of data, including Excel spreadsheets, databases, cloud services and on-premises systems. This ensures that all relevant data is included in your dashboards and reports.
Customization: You can customize your KPIs according to user needs by creating custom visuals or editing existing ones using drag-and-drop functionality. This helps ensure that the right metrics are tracked and displayed in clear ways that everyone understands.

Dataddo
Dataddo is a powerful KPI dashboard software and tool that lets users quickly gain insight from their data. It allows them to accurately track performance metrics, build custom reports and dashboards, and easily share results with colleagues. Furthermore, its user-friendly interface makes it simple for everyone to access the information they need in one place.
What's great about Dataddo is that it provides an array of features designed specifically for managing key performance indicators (KPIs). Users can set up alerts when certain conditions are met, enabling quick reaction times should any anomalies occur. They can also take advantage of automated report generation by scheduling regular updates sent directly to stakeholders' inboxes. Finally, this platform offers integration capabilities with other tools, such as Salesforce or Google Analytics so you can get an even broader overview of your business operations.
Cyfe
Cyfe is a great choice for businesses looking to track and manage performance metrics. It offers an easy-to-use dashboard that can be used to monitor multiple KPIs at once, so you don't have to waste time switching between different screens. Additionally, it has collaborative features which allow team members to work together on the same project from anywhere in the world.
Cyfe also provides custom widgets, allowing users to create their own visuals with drag-and-drop tools. This makes it simple to display data in meaningful ways, giving companies insights into how they're performing against key objectives. Plus, it's compatible with popular cloud storage services like Google Drive and Dropbox, making collaboration even easier.
Simplekpi
Simplekpi is a great tool for those looking to track their KPIs. It provides users with an intuitive interface, making it easy to quickly set up and customize dashboards. Plus, the graphical representation of data makes it easier to visualize trends and make decisions based on them.
One of Simplekpi's best features is its ability to integrate with other apps like Salesforce and Google Analytics. This allows users to automatically pull in relevant data from these sources into one place - giving them a detailed overview of how their business is performing across multiple platforms. In addition, there are many customizable widgets available that enable you to glean insights from your KPIs quickly.
Simplekpi offers users everything they need to track their key performance indicators in one convenient package. The user-friendly design makes it easy to get started without too much technical know-how, while the integration capabilities provide actionable information at a glance.
PerformanceUp
PerformanceUp is a cloud-based KPI dashboard software that makes it simple for organizations to visualize their business performance. It allows users to create real-time, customized dashboards quickly and easily. PerformanceUp's powerful features make it an ideal solution for businesses seeking a comprehensive dashboard tool.
In particular, here are four standout features of PerformanceUp:
A wide range of data sources from Google Analytics to Salesforce can be integrated into your dashboard.
An intuitive drag & drop interface allows you to customize and arrange the visual elements on your dashboard quickly.
Automated reports help ensure that all stakeholders have access to up-to-date information about key metrics at any time.
Predefined widgets such as charts, gauges, tables, maps, etc., provide users with an easy way to display their data visually appealingly.
PerformanceUp offers a feature-rich platform perfect for creating dynamic KPI dashboards for tracking and analyzing critical data points. With its wide array of integrations, customizable widgets and automated reporting capabilities, PerformanceUp stands out among similar tools as one of the best solutions available today.
Get started with the leading KPI software today! Sign Up 14 Day Trial
Reportz
Reportz is an innovative KPI dashboard software that can help businesses of all sizes track their performance. It's a great tool for those who need to monitor and analyze key metrics quickly and accurately. With Reportz, users have access to real-time data visualization and insights into their operations. The graphical user interface makes it easy to navigate the many features available. Additionally, users can customize dashboards according to personal preferences or industry standards.
One of the best things about this particular KPI dashboard software is its ability to integrate with other tools and services. This allows users to collect data from multiple sources in one place without having to transfer information manually between applications. Reports can also be easily shared across various departments so that everyone can access up-to-date information at all times. Furthermore, Reportz provides automated alerts that notify stakeholders when changes occur within the system, which helps keep teams informed of any updates they should be aware of.
Dashthis
Dashthis is a state-of-the-art KPI dashboard software and tool. It offers powerful visualizations, such as graphs and charts, to help track key performance indicators in real-time. Furthermore, Dashthis also provides an array of features that allow users to customize the data displayed on their dashboards. For instance, they can filter out irrelevant information or adjust the layout based on their reporting needs.
Moreover, Dashthis has options for both manual and automated data collection. This makes it perfect for any team looking to set up a comprehensive monitoring system quickly and easily. Plus, its user interface allows anyone to create reports with minimal effort. Even those new to analytics tools can get started immediately!
Finally, this software includes a range of advanced analysis capabilities so teams can gain deeper insights into their KPIs. From simple trend tracking to complex correlations between different metrics, Dashthis enables businesses to make smarter decisions faster than ever before.
Conclusion
KPI dashboard software is an invaluable tool for businesses. A KPI dashboard allows users to track performance and KPIs, as well as generate reports with ease. The right KPI Dashboard software can help organizations make informed decisions quickly and accurately.
When choosing the right KPI Dashboard software, it's important to consider key features such as data visualization, customizability, scalability, integration capabilities, and customer service support. There are many great options on the market today like Google Data Studio, SimpleKPI, DashThis, Reportz and PerformanceUp that offer these features.
Why Choose 500apps?
#1
All-in-One Suite with more than 50 apps
#2
Everything you need today and in the future for all departments
#3
Unbelievable value - the lowest pricing you will ever find
#4
Hosted in 6 locations for compliance and blazing speeds
#5
24/5 Support - FREE chat, email and phone
#6
Uncapped features - limits you will never reach humanly
#7
Managed and maintained everyday by a dedicated team
#8
No downtime - comes with a 99.9% uptime guarantee
#9
Supports a number of international languages
#10
We've everything covered - 90k+ trust us with their business
Join the SaaS Revolution
All-in-One Suite of 50 apps

Unbelievable pricing - $14.99/user

24/5 Chat, Phone and Email Support