Achieving Higher Productivity Made Easy with Workflow Management: A Quick Guide
Do you feel overwhelmed and unproductive in your daily work? Nothing is worse than feeling like there are too many tasks on our to-do list but not enough time or energy to complete them. But don't worry, with a few simple steps. You can learn how to make the most of your productivity and manage your workflow more effectively! This article will provide an easy guide to getting more done by introducing some great strategies for workflow management.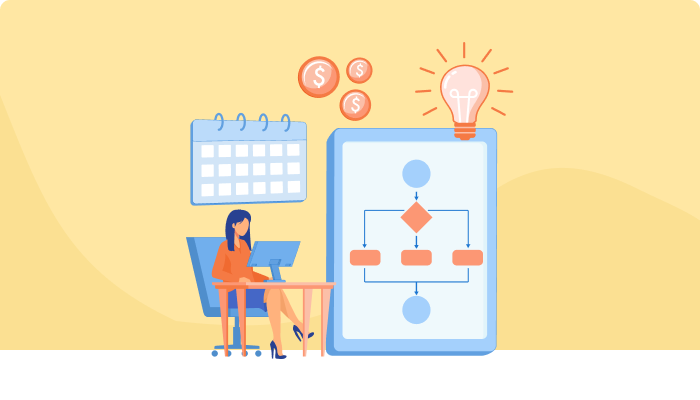 The concept of workflow management has been around for years, allowing businesses to increase efficiency through process optimization. By understanding the basics of managing your workflow, you can maximize the effectiveness of your efforts and gain back valuable hours each day. With organizational tools such as task lists and project timelines, it becomes easier to track progress and ensure that all deadlines are met. We will walk you through the essential elements of successful workflow management so that you can improve quality and quantity when tackling projects.
What Is Workflow Management?
Workflow management is the practice of streamlining and automating day-to-day business processes. It's a way to maximize efficiency, reduce costs and improve accuracy across an organization. Using workflow software, you can plan, control and monitor operations to achieve better results for your company.
Business process management (BPM) techniques are used within workflow management systems to ensure that all tasks follow a consistent pattern from start to finish. BPM tools help employees coordinate their activities more effectively by providing an automated system for tracking progress. In addition, they also provide real-time status updates, so everyone involved knows how things are progressing at any given moment.
Implementing workflow solutions can lead to increased productivity, reduced errors, and improved customer satisfaction due to faster response times. Optimizing workflows with advanced technology and automation tactics allows companies to realize significant cost savings while still delivering quality products or services on time.
Why Is Workflow Management Important?
Workflow management is a process that helps businesses become more efficient and productive. It can improve the organization of tasks, optimize resources, streamline communication, and ultimately help maximize profits. As such, workflow management is essential for any business looking to increase its bottom line.
Automating manual processes with a workflow automation system architecture leads to greater accuracy while reducing costs associated with time-consuming paperwork.
Improved transparency across projects and departments gives employees better control over their workloads, allowing them to focus on higher-priority tasks.
Team collaboration is made easier with visibility into who's working on what at all times.
When implemented correctly, BPM (Business Process Management) Workflow Management allows companies to measure performance metrics quickly and accurately, giving them key insights into how the organization is performing. This valuable information can then be used to make informed decisions leading to increased productivity within the workplace. By utilizing workflow automation technology and leveraging data from past activities or events, businesses can unlock new opportunities for growth and improvement both now and in the future.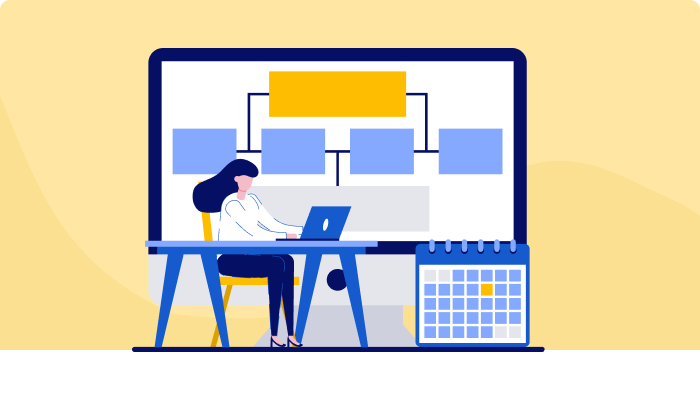 Managing Your Workflow System
Are you feeling overwhelmed? Are there too many tasks and need more time in the day? You're not alone. It can be difficult to stay organized when juggling a heavy workload, but having a proper workflow system is key. Managing your workflow system effectively can help reduce stress levels and improve efficiency.
Set Clear Objectives
When it comes to managing your workflow system, setting clear objectives is essential. Business Process Management (BPM) can help build a framework for structured processes and ensure that tasks are completed efficiently. Setting specific goals with BPMApp allows you to track progress towards those objectives and adjust the workflow as needed to optimize outcomes.
Workflow management helps increase accountability and visibility by giving users real-time updates on their roles within a process. It also enables teams to work together more collaboratively while leveraging the strengths of each team member. As an added benefit, using BPM tools allows companies to automate routine tasks, freeing up resources and allowing them to focus on higher-value activities.
Establishing objectives using BPMApp offers businesses greater agility when responding to changes in customer demands or organizational needs. Through tracking results over time and gaining insight into how processes are performing, it's possible to make meaningful improvements that result in increased efficiency and productivity, all of which lead to improved bottom-line performance for the business overall.
Automate Processes
Automating processes is an important part of managing your workflow system. By using a bpm workflow management tool like BPMApp, you can streamline and automate routine tasks so that employees don't have to manage their workflows manually every time. This helps save time and energy, which can be used for more complex work in the business.
By automating these processes, businesses can reduce costs and increase efficiency by eliminating unnecessary manual steps. Automation also ensures accuracy as data is entered into the correct fields accurately each time. All this adds up to higher profits and improved customer satisfaction due to faster project turnaround times.
Automated processes help improve productivity while reducing operational costs simultaneously, something any organization should strive for. Utilizing tools such as BPMApp will allow businesses to enjoy all these benefits with minimal effort from their staff members.
Monitor & Measure Progress
Monitoring and measuring progress is a key component of managing your workflow system. With the help of workflow software, you can easily track each process's performance to identify bottlenecks hindering efficiency. By utilizing workflow management tools like BPMApp, you can gain real-time visibility into all aspects of your workflow system so that any issues or discrepancies can be quickly addressed.
This level of oversight helps ensure that processes remain on schedule and goals are achieved in a timely manner.
Tracking progress provides valuable insights for further improvement and optimization within your business operations.
You'll be better equipped to understand how tasks are handled at every stage.
Allowing for more informed decision-making when it comes to streamlining your long-term objectives.
Our workflow solutions enable supervisors and team members alike to keep tabs on tasks and deadlines while offering up data points necessary to make adjustments along the way. This allows organizations to maximize productivity without compromising quality control standards, resulting in improved work experience for everyone involved.
Create Templates
Creating templates for your workflow system can be a great way to save time, money and effort. With BPMApp, you can create customised templates that fit perfectly with what you need from your workflow system. This means that instead of manually setting up each step in your process every time, you can select an existing template or adjust it as needed.
It is important to understand what a workflow is before starting this process. It's an automated series of steps which allows tasks and processes to move smoothly through the business. Top workflow software like BPMApp provides users with the tools they need to build out their workflows quickly and easily.
No matter how complex or simple your needs may be, creating templates gives you greater control over how things are done within your organisation. Here are some advantages of using pre-made templates:
Increased efficiency due to consistent structures being used on all projects.
Reduced risks associated with human error.
More accurate results in less time.
Using pre-made templates also saves you time, allowing you to focus on other, more important aspects of running your business. As well as saving resources such as man hours and financial costs, it ensures that everything runs smoothly – so no one has anything to worry about! It's easy to see why investing in top workflow software makes sense for any organization looking to improve its productivity.
Review & Optimize
Reviewing and optimizing your workflow management system architecture with BPMApp is essential for efficient processes. By leveraging the various features of this tool, you can identify areas where improvements need to be made to streamline operations. Taking a close look at how tasks are handled within your organization will help you determine which activities should remain as-is and which ones could benefit from some restructuring.
To ensure everything runs smoothly, it's important to review all aspects of your workflow management system architecture with BPMApp. This includes assessing the existing rules and regulations, process flows, performance metrics, timelines, resource allocation strategies, task tracking systems, reporting mechanisms and more. Once any potential issues or bottlenecks have been identified, it's possible to create solutions that can minimize waste while improving overall efficiency. With a thorough understanding of what needs to be done to optimize your business processes through BPMApp, you'll be able to get up and running quickly while ensuring maximum productivity.
Get started with the leading Workflow Management Tool today! Sign Up 14 Day Trial
Conclusion
Workflow management is a great way to get more done in less time and with fewer resources. By understanding the basics of workflow management, you can create an efficient system that keeps your projects on track and running efficiently. This simple guide has given you why workflow management is important, how to manage it, and which tools are available to help simplify this process.
BPMApp provides users a powerful platform for managing their workflows quickly and easily. The user-friendly interface makes it easy to add tasks, assign them to team members, set deadlines and monitor progress toward completion. It also allows teams to collaborate effectively by providing real-time updates on project status, so everyone knows what's happening when they need to know it.
Why Choose 500apps?
#1
All-in-One Suite with more than 50 apps
#2
Everything you need today and in the future for all departments
#3
Unbelievable value - the lowest pricing you will ever find
#4
Hosted in 6 locations for compliance and blazing speeds
#5
24/5 Support - FREE chat, email and phone
#6
Uncapped features - limits you will never reach humanly
#7
Managed and maintained everyday by a dedicated team
#8
No downtime - comes with a 99.9% uptime guarantee
#9
Supports a number of international languages
#10
We've everything covered - 90k+ trust us with their business
Join the SaaS Revolution
All-in-One Suite of 50 apps

Unbelievable pricing - $14.99/user

24/5 Chat, Phone and Email Support