Robotic Process Automation- What It Is, How It Works and Its Future Scope
The future of RPA is bright, and top innovators are already leveraging this technology to enhance their current systems. As a result, businesses can operate more efficiently and have more control over the business process.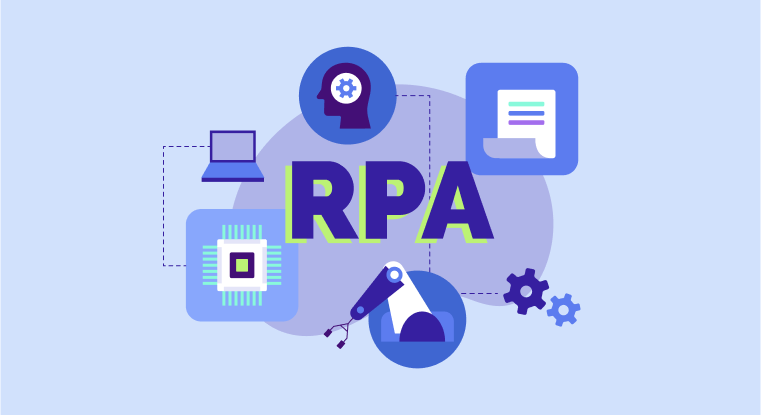 Robotic process automation (RPA) is transforming the way organizations operate, streamlining once manual processes and reducing the burden on human employees. RPA technology communicates with business systems and applications to increase productivity by leveraging a scalable, digital workforce. The growth of RPA software has exploded across industries and functions—from healthcare to financial services and insurance to human resources and call center automation.
RPA technology can automate tasks, including claims processing and call center support to data management, IT services, and invoice processing, and everything in between. Opportunities for automation exist virtually everywhere throughout the business, enabling greater organizational performance and efficiency.
How Is RPA Different from Other Enterprise Automation Tools?
In contrast to other solutions, RPA allows organizations to automate at a fraction of the cost and time previously encountered. It is also non-intrusive in nature and leverages the existing infrastructure without causing disruption to underlying systems, which would be difficult and costly to replace. Cost efficiency and compliance are no longer an operating cost but a byproduct of the automation.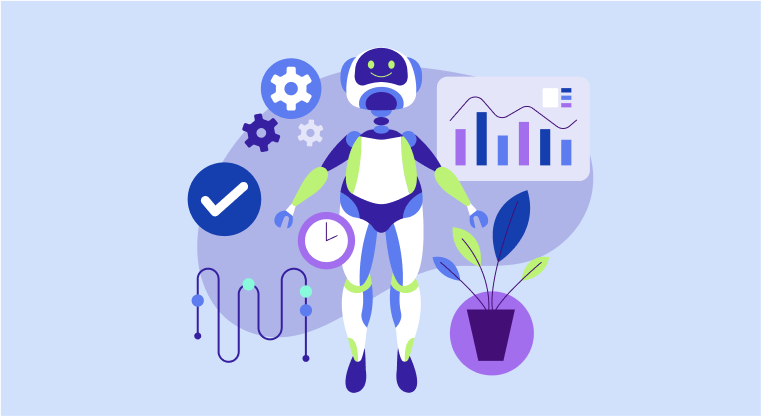 RPA is intuitive to use, enabling knowledge workers to spend less time on executing repetitive, simple tasks. It represents the convergence of multiple technologies within a consumer-friendly user interface. Advances in machine learning (ML) and artificial intelligence (AI) have enabled RPA to allow your workforce to automate on their own, in real time. Flexible and intelligent, it executes 10X faster and 100% error-free.
Today, RPA delivers automation in a fraction of the time traditional approaches required, while being able to execute in any environment and across any application, anywhere. Robotic Process Automation bots, such as a chatbot, can start immediately, scale on demand, and keep working at 100% capacity non-stop. Add intelligent automation, and your Digital Workforce can handle even complex unstructured information to automate any business process from end to end. You choose how many software robots you need and deploy the instant they're required.
How does Robotic Process Automation Work?
Robotic Process Automation bots have the same digital skillset as people and more. They are capable of mimicking many–if not all–human user actions. Think of RPA bots as a Digital Workforce that can interact with any system or application. For example, bots are able to copy-paste, scrape web data, make calculations, open and move files, parse emails, log into programs, connect to APIs, and extract unstructured data. And because bots can adapt to any interface or workflow, there's no need to change business systems, applications, or existing processes in order to automate.
RPA bots are easy to set up, use, and share. If you know how to record video on your phone, you'll be able to configure RPA bots. It's as intuitive as hitting record, play, and stop buttons and using drag-and-drop to move files around at work. These bots can be scheduled, cloned, customized, and shared to execute business processes throughout the organization.
Robotic Process Automation - Trends for the Future
1. Economic Recession and Covid 19 accelerating adoption
Not only have these dire situations have accelerated RPA adoptions, but new automation technologies indicate a ubiquitous automation adoption in 2021. According to the Everest Group, the global RPA independent software vendor market surpassed US$1 billion, with over 2/3 of the revenue coming from software licenses.
According to Gartner, robotic process automation software has been recognized as one of the fastest growing software segments in the last two years, growing at more than 60 percent, while the "overall enterprise software market grew at just 13 percent." This estimate suggests more than 90 percent of enterprises will have an automation architect by 2025, up from less than 20 percent today.
Get Ahead of the Curve with the latest Robotic Process Automation Software Sign Up 14 Day Trial
So what are some key reasons for this continued growth? The first, most unexpected impact on the future has been the COVID-19 disruption, causing a tremendous acceleration of RPA adoption going forward. According to a recent Gartner survey, nearly one-quarter (24 percent) of all finance executives "expect to spend more on robotic process automation" to combat the remote workforce and inability to rely on staff to run routine processes. The current Coronavirus crisis has been a catalyst in the remote work movement that was already in motion. Incorporating automation at the right stages hereon, can either make or break your business.
Another reason for the growth of RPA technology into the future is that automation will evolve on optimizing digital processes. Based on predictions from Gartner, "over the next few years, the scope of automation will evolve from 'discrete tasks and transactions based on static and rigid rules' to automating knowledge work. This will require a new automation strategy that focuses on optimizing digital processes from IT infrastructure through customer-facing applications." With the range of RPA technology broadening, IT teams will need to adapt their strategies to keep up with the pace of RPA adoption across the business.
2. Smart Process Automation and Intelligent Process Automation
In today's business climate, robotic process automation is extremely well-suited for automating routine tasks. But as artificial intelligence, machine learning, deductive analytics, and predictive analytics are introduced and refined within automation, RPA will begin to complete more sophisticated and complex work, augmenting human capabilities and enhancing decision making across organizations.
Smart Process Automation, also known as SPA, is naught but an extension of RPA. In a nutshell, it allows RPA bots to benefit from the abilities of the complete automation sphere- including Artificial intelligence, big data, machine learning, and more. The earlier generation of RPA was capable of automating structured data, with a pre-defined set of rules. But with the advancements, and easy integration of Machine Learning- SPA bots serve as an alternate for RPA's 'If-Then' rules and statement.
Whether known as intelligent automation from organizations like Forrester or Ernst & Young (EY), hyperautomation from Gartner, or intelligent process automation from IDC, intelligence that is integrated in tandem with RPA will broaden the range of processes that can be automated within the business. In essence, intelligent automation considers the entire lifecycle of an automated process across tools and functions, and with regard to overall complexity.
Augmenting robotic process automation with intelligence will also lead to greater cost savings for organizations. In fact, Gartner predicts that by 2024, companies that leverage automation and intelligence will reduce operational costs by nearly 30 percent. Because of the advancements that intelligent automation will bring, RPA technology will continue playing an increasingly pivotal role in automating and integrating all possible business processes to drive lasting value for the organization.
3. Reduction of Paper-Work
Robotic Process Automation is a data-driven automation process, helping enterprises focus on managing repetitive tasks, activities, and mundane time-consuming duties performed by humans. According to Forrester's latest research, "By the end of 2021, 1 in 4 information workers will be supported in their daily work by software bots, robotic process automation or AI."
Since automation is rapidly maturing, the digital workforce (robots) has the potential to reskill and arm the human workforce in an efficient, and effective way.
Soon, the automation market will be flooded with easy-to-deploy RPA models with pre-built functionalities for automating an array of paperwork in an enterprise.
4. A Holistic, Scalable Automation Approach for The Future
Companies embracing digital transformation must ensure that they leverage a holistic, scalable approach for the future that makes use of complementary automation strategies. Robotic Process Automation technology today is considered automation on the front end, or from the user-interface (UI) level, while back end automation, sometimes referred to as API automation, leverages application programming interfaces for higher capacity transactions that are specifically defined. The capacity to leverage both UI and API automation going forward will enable organizations to integrate applications and allow for more robust automation deployments.
Another crucial automation strategy for the future is understanding and using RPA and Business Process Automation in a way that complements one another to scale automation across overall business processes. The key to BPA is 'process,' taking repeatable processes that require considerable time in an organizations, like transferring files, generating reports, or extracting data from unstructured sources, and then automating them from a central location. With BPA software, each step in the process automatically triggers the next step and creates entire workflows across the business.
So while RPA software hands over individual tasks to robots, BPA takes over an entire business process—automating it from start to finish. Where this is really exciting for the future is how companies can combine both front end RPA technology and back end API automation with Business Process Automation to digitally transform their business. Simply put, the possibilities are endless for RPA and BPA to work together—achieving greater efficiencies together than possible alone.
What Are the Features of RPA Software?
Pocket and User-friendly
Robotic Process Automation projects don't require investment in new technology or deep IT expertise. This lowers the economic threshold of workflows with a viable business use case for automation when compared to other automation projects.
Security
Top RPA products provide role-based security to ensure action specific permissions. They also facilitate the customization of configuration and encryption capabilities for protecting specific data types. All the data, instructions, and automated audits that the bot accesses are encrypted to prevent malicious tampering. In addition, Robotic Process Automation tools provide in-depth login records of users along with the work they perform.
Does Not Disrupt Existing Processes
It can be risky to deploy new IT processes as it may require complex transformation of existing system interfaces and processes. Therefore, many large enterprises hesitate to enhance or replace the running platform. Robotic Process Automation implementation helps to avoid this risk and complexity. The software robot accesses the existing system in the same manner as humans, i.e. by following data integrity, quality, and security standards. Therefore, in RPA implementation, security access control and data integrity are enforced according to existing standards which helps to prevent any kind of disruption and maintain protections and functionality.
Rich-analytical Suite
RPA platforms come with an analytical suite that helps you identify the performance of the bot workforce. These applications monitor and manage automated functions through a central console. The console can be managed from anywhere and presents measures on workflows, robots, servers, and so on. It facilitates in-depth operation analysis which helps to determine issues. The console also assists users to track the operations and simplifies future workloads. All features are inbuilt and offered out of the box, so the RPA tool doesn't need any integration.
Robotic Process Automation Is the Future
Ultimately, your organisation's Robotic Process Automation journey is up to you. By now, you should understand the transformative role that automation has played and will continue to play in the future. However, automation needs to be done properly.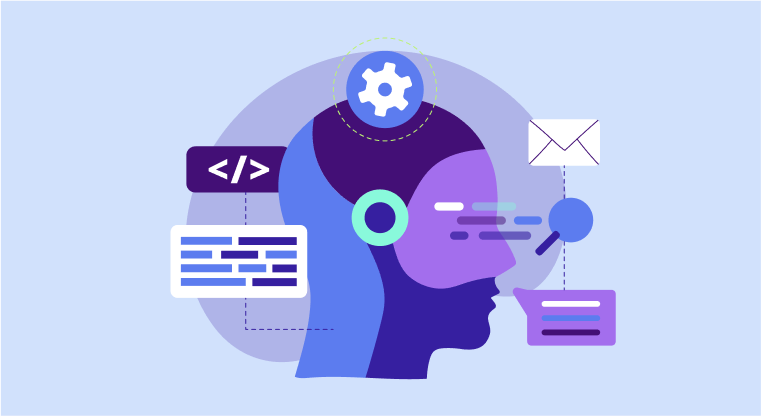 Like Joe Kaeser, CEO of Siemens , famously said,"The first rule of any technology used in a business is that automation applied to an efficient operation will magnify the efficiency. The second is that automation applied to an inefficient operation will magnify the inefficiency."
So, finding a robust RPA solution that grows with you—is vital for how you plan to move forward. At 500apps, we give you an all-in-one, affordable, full-featured suite of apps to meet the needs of your entire business and grow faster. With apps like Botpath, which provides AI-augmented RPA, predefined templates and process recording, you take firm control of your RPA journey. You can learn more here to know more about RPA and botbuilder.
Why Choose 500apps?
#1
All-in-One Suite with more than 50 apps
#2
Everything you need today and in the future for all departments
#3
Unbelievable value - the lowest pricing you will ever find
#4
Hosted in 6 locations for compliance and blazing speeds
#5
24/5 Support - FREE chat, email and phone
#6
Uncapped features - limits you will never reach humanly
#7
Managed and maintained everyday by a dedicated team
#8
No downtime - comes with a 99.9% uptime guarantee
#9
Supports a number of international languages
#10
We've everything covered - 90k+ trust us with their business
Join the SaaS Revolution
All-in-One Suite of 50 apps

Unbelievable pricing - $14.99/user

24/5 Chat, Phone and Email Support