Best AI Chatbot Software: BotUp Can Transform Your Business
Create an interactive and personalized experience for your customers. Chatbots make it easier for customers to find what they need, and they can also provide them with information about products that might interest them.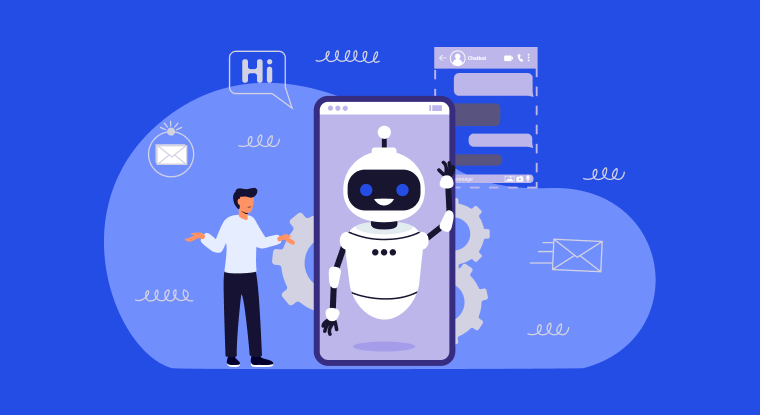 Chatbot software powered by AI can help you transform your customer service. BotUp makes it simple to create and manage chatbots for your website, giving you a powerful tool for increasing customer satisfaction and sales. You can use BotUp to provide quick and accessible customer support, boost your online presence, and drive more traffic to your website.
What exactly is BotUp?
Businesses finally realize that chatbots are the future of customer service.
Chatbot software enables you to create powerful chatbots for your business in just a few minutes without the need for coding, allowing customers to solve their repeated queries automatically without having to wait for a response from a live agent.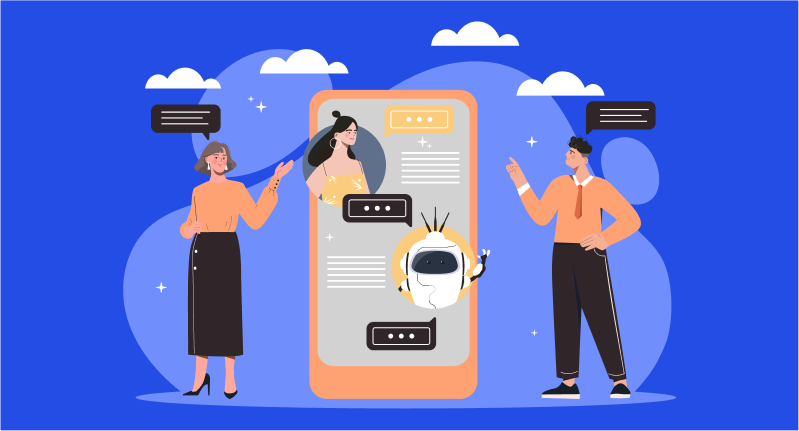 BotUp's AI-powered chatbot software can be used for various purposes, including sales, marketing, content generation, and more. Using industry-specific pre-built chatbot templates, you can create chatbots for Whatsapp, Website, SMS, Facebook, Instagram, and Slack. These templates are easily customizable based on your business needs.
How Can AI Chatbot Software Help Your Business?
There are numerous ways to automate and grow your business with Chatbot. To make things easier, we've chosen these core benefits.
1. Round-the-clock Customer Service
According to a research, more than half of customers expect a business to be available around the clock. Chatbots may not solve the problem of waiting for an operator for minutes at a time just yet, but they are the most likely candidates. Keeping a 24-hour response system ensures that the seller and the customer are always in touch. The more successful the bots are, the more benefit they provide.
When you are unable to answer the customer's queries, an ai chatbot is ready to help customers. Provide customer service 24/7 and ensure that every customer receives the assistance they need.
2. Boost Workflow and Productivity
We're all seeking ways to be more productive in the age of information overload. According to Joe Workman, author of the book "The Complete Idiot's Guide to Chatbots," chatbots can enhance our productivity and workflow. According to Workman, chatbots can help us better manage our time by alerting us of pending chores, keeping us on pace, and facilitating communication with others via a simple means of communication. They can also speed up our research efforts.
Agents who spend their entire day answering the same questions quickly lose their motivation. What if you had the ability to automate these unappealing tasks? That is exactly what the chatbot does. Allow your team to concentrate on cases that are of interest to them.
3. Automatically Generate and Qualify Leads
Sales relies on the generation of leads. With a larger number of leads, you have a greater number of potential clients for your products and services. In most cases, generating leads entails finding prospective clients and persuading them to get in touch.
Get started with the leading Chatbot Software today! Sign Up 14 Day Trial
There's a better way. With a lead generation chatbot, you don't have to lift a finger to find and qualify leads. lead generation chatbots make it possible to engage with customers in a proactive manner. Connect with potential leads in real-time and automatically have new contacts added to your CRM system.
4. Solve Problems in a Smarter and Faster
AI chatbots are a great way for small businesses to cut costs without sacrificing quality. There is much value in using social media to connect with and educate your customers. Chatbots are not restricted to customer service or marketing; they can also be implemented in HR. These chatbots can schedule appointments, answer questions, and provide product information.
Chatbots reduce wait times by responding to user questions as quickly as possible. They gather information about customers and their requirements, thereby assisting your team in shortening the time it takes to resolve issues.
5. Improve the Customer Experience
Customers should be guided by hand from the moment of first contact. Make them feel cared for by guiding them through your website with interactive elements and providing personalized recommendations.
The customer service chatbot has been an integral part of the Customer Experience (CX) for some time now. The key to this success is the ability of the chatbot to provide personalized and contextual responses that are tailored to each customer's needs.
6. Boost Conversion Rates
With whatsapp chatbots, you have the opportunity to engage with customers 24/7 and make them feel like they are talking to an actual person by using natural language processing. Artificial intelligence is making it easier for people to get information without going through a long phone call or waiting on hold.
Strong customer relationships are the foundation of any successful business. By interacting with visitors to your website, you'll be able to establish strong bonds with a chatbot. Assist visitors who are browsing your offers by guiding them through the process of finding and purchasing products.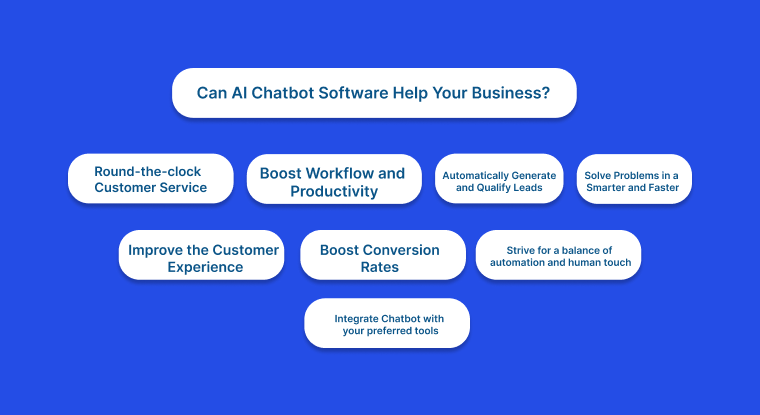 7. Strive for a balance of automation and human touch
Combine artificial intelligence (AI) technology with a human touch to provide seamless customer support. Your customers will be able to self-serve, solve common problems, and connect with human agents as needed.
It's essential to remember that chatbots cannot not replace humans but rather provide an automated and personalized experience. This means that they should be able to answer simple questions and handle basic tasks while at the same time being able to transfer customers to humans when they need something more complex.
8. Integrate Chatbot with your preferred tools
One-click integrations allow you to quickly and easily add chatbots to your website, messaging platform, or Facebook page. Connect with customers through various channels and give them the freedom to solve problems in the manner of their choosing.
Chatbots can be integrated with any other tools you use in your business. If you use an email marketing tool, you can create chatbot campaigns to deliver automated messages or content to your audience. This is really helpful when customers want to know more about a product but don't have time to wait for a response from customer service.
Pricing
Businesses of all sizes can benefit from chatbot software. Customer service can be improved by chatbots, but they can also help boost sales and brand awareness. In contrast to popular belief, not all chatbots are created equal. Various chatbot software providers are available, each with a different pricing model.
The price of the software and the features it offers should be taken into account when selecting a chatbot software provider. At just $14.99 per user, BotUp is an incredible value for the advanced features it offers. Get access to 38+ apps that can be used to manage your business's entire operations.
Conclusion
Although AI has yet to be fully realized in bot intelligence, businesses can benefit greatly from its capabilities and "wow" echoing nature. When it comes to building a brand, many companies focus on a single piece of software. As part of 500apps, an all-in-one business solution that includes 38+ apps, BotUp breaks such an approach because there is no need to rely on any third-party apps. Begin your journey toward more extraordinary grace by using BotUp as a starting point.
Why Choose 500apps?
#1
All-in-One Suite with more than 50 apps
#2
Everything you need today and in the future for all departments
#3
Unbelievable value - the lowest pricing you will ever find
#4
Hosted in 6 locations for compliance and blazing speeds
#5
24/5 Support - FREE chat, email and phone
#6
Uncapped features - limits you will never reach humanly
#7
Managed and maintained everyday by a dedicated team
#8
No downtime - comes with a 99.9% uptime guarantee
#9
Supports a number of international languages
#10
We've everything covered - 90k+ trust us with their business
Join the SaaS Revolution
All-in-One Suite of 50 apps

Unbelievable pricing - $14.99/user

24/5 Chat, Phone and Email Support