Take Your Business Online: All-in-One Strategy
You have all you need to put your business online in one place. The place is 500apps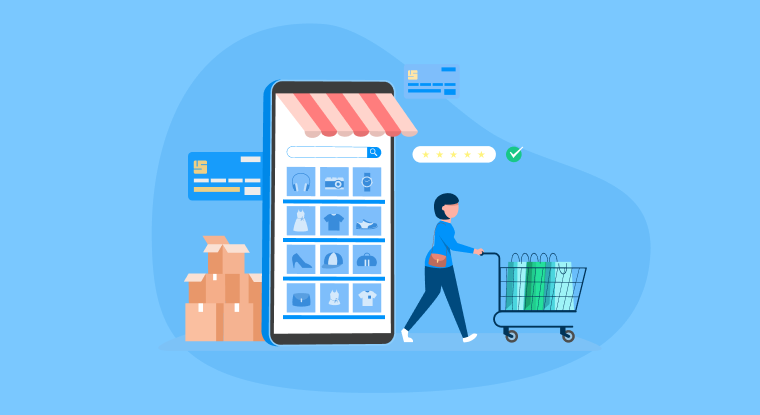 "500apps is exciting for companies that focus on the task and project monitoring for increased productivity. Looks great! It also has all the apps in the same place, and we can use them in one go. Well done." – Ronald Kluger
Both emotionally and socially, the internet holds the world together. We are in a time and age where people easily interconnect with a few clicks. The world right now is very fascinated with searches on the internet. Most customers get introduced to businesses by discovering them online.
In the 21st century, the best way to market your product is online to have a successful business. Now, you can bring your products comfortably in the face of people thousands of miles away. With an online presence, you get more reach and can significantly increase your productivity.
Most businesses have a Facebook business page or an e-commerce page, which translates to an excellent online presence. However, that is a limiting way to look at it because you do not control those platforms. Also, what you will be able to do there will be limited. Above all, e-commerce websites take a cut from your sales.
You can do so much more with the power of the internet beyond having a simple online presence on a social media platform. For a start, you need a personal website. Your social media pages should be a doorway to your website; hence you have more control, and you open your business to limitless possibilities.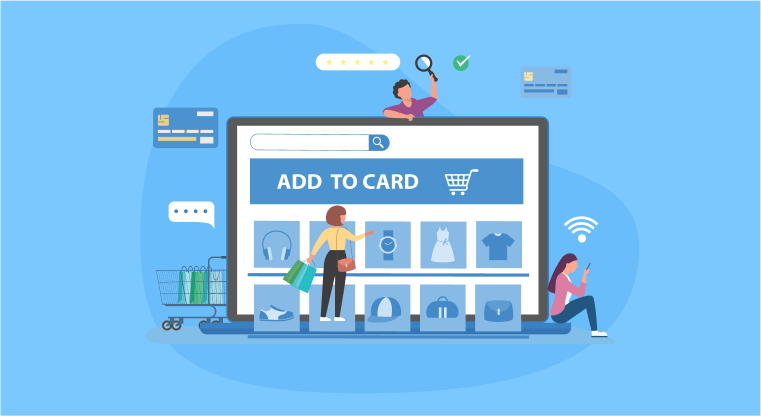 With a personal website and a full-blown online presence, you can fully automate your business. You can increase your sales, maximize your digital marketing, have more control over recruitment, and improve customer services. All with a few clicks, drags, and drops.
You and your business were considered thoroughly by 500apps, hence their all-in-one business strategy model. They offer all tools that your business will need from its inception online till its apex in productivity. It is a platform designed to cover you with your robust online presence. 500apps contains all the applications you need to migrate your business online for maximum productivity. Also, 500apps have a system that literally walks with you and guides you all the way.
Why you Should Take Your Business Online?
There are many reasons why taking your business online is the best for you. With the promises the boundless internet promise, here are some reasons to put your business online.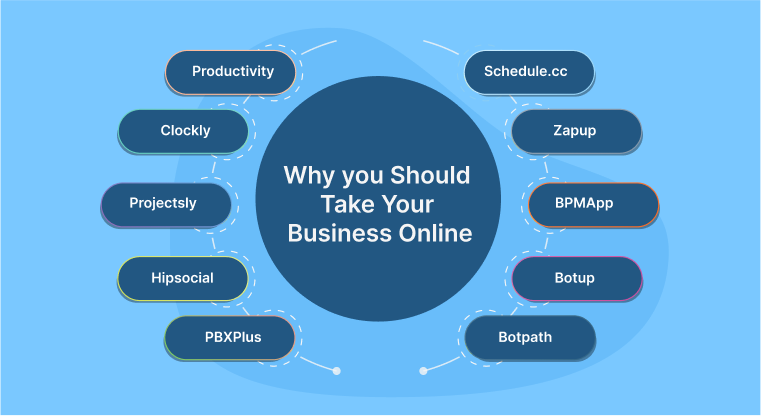 Productivity
Jason Downes said, "Some employees see social media as a hindrance to productivity and a prime tool for procrastination. However, when it is managed correctly, it can greatly improve workplace efficiency, both in terms of employee morale and business processes."
If Downes can speak so highly of social media, consider an online presence that transcends the boundary social media sets. With a properly managed online presence, you will ease your staff's workload, human errors are eradicated, business processes become more efficient, and your brand will gain more recognition.
Using internet tools will help you cover more tasks than humans ordinarily can. Also, you can run several errands concurrently with as little as mere supervision. Your business will be online 24/7, and easy automation of processes will ease the pressure on your staff. Happier workers will indeed impact your productivity; with the consistent effectiveness your online tools churn out daily, your business will experience explosive recognition.
500apps productivity suite includes Clockly, Projectsly, Hip social, PBX Plus, Schedule.cc, Zapup, BPMApp, Botup, and Botpath.
Clockly helps you manage all your business activities with ease. It is a time tracking software that simplifies time management, monitors employees, manages timesheets and payroll. With Clockly, you will boost the productivity of your team. Learn more.
Projectsly helps you centralize your business projects. Projectsly is one of the 500apps productivity suite. It uses a robust Kanban view to manage project management and keeps everyone in all departments on the same page. Learn more about project management software.
Hipsocial is a social media management tool designed by 500apps to schedule content. It helps you to engage users and make data-driven decisions to enhance your social media presence. Use Hipsocial to schedule social content across all your social media platforms simultaneously.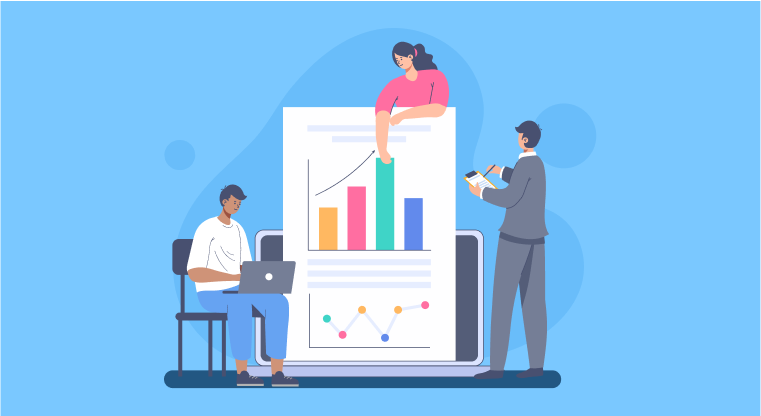 PBXPlus helps you manage communication within your establishment and to a few outside lines. PBXPlus comes with the best virtual phone system features built for modern workspaces. Learn more about how easy PBXPlus will make meeting scheduling here and lots of valuable features.
Schedule.cc allows you to manage your schedule immediately. It easily allows you to book appointments, connect with your clients, and organize your business hours anywhere. You can also understand your customer needs with appointment scheduling software.
Zapup can connect all your apps and social media platforms in a place. It easily allows you to post content across the board from anywhere. You can also receive updates about actions from each platform with notifications on app integration software.
BPMApp is to manage and optimize business processes. You can use the software to organize and automate workflows, control form responses, and keep a pulse on all your business tasks. Learn more about business management software.
Botup enables businesses to create conversational chatbots for customer interaction. The chatbots can attend to a large number of customer requests at the same time. The ease of communication Botup offers increases customer satisfaction. The chatbot software can be integrated into any social media platform of your business.
Botpath helps you to reduce risks by increasing the efficiency of your complex processes. You can configure bots to execute tasks accurately with robotic process automation.
Sales
The basic rule of business is sales increase by getting more customers. If you are not online and want a sporadic increase in sales, you are wrong as a business. Your local presence can only reach so far; as your business grows, your local presence does. At some point, you will experience a limitation on how far your local reach can extend.
Let's bring it to perspective; irrespective of how big or well-known your business is, only people who come across your office or your ads get to visit. Internet is a platform that places you in the faces of people countries away. With the proper management, you will have to increase the scope of your business because your products won't be consumed locally alone. Furthermore, you will have to raise your standard; better standards mean more sales.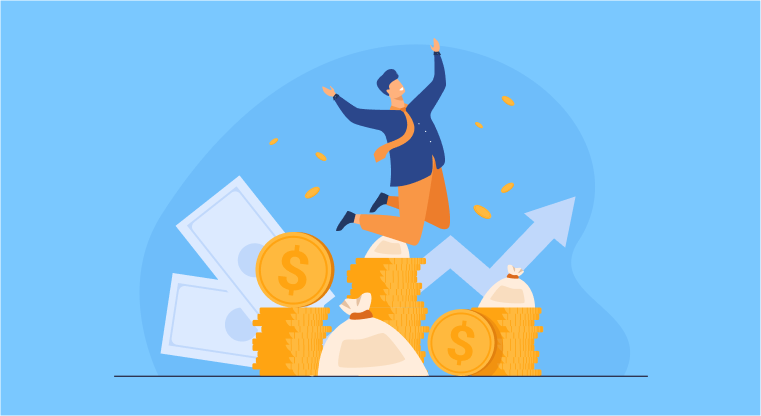 With an online presence, your business will reach more people. What is left is getting conversions by building relationships with your customers.
The 500apps sales suite is explicitly designed for salespeople and to help businesses manage their sales. The software includes Finder.io, Sign.cc and CRM.io
Finder.io helps you find emails of prospective customers and visitors. Finder.io can search specific domains, social media pages, company websites, individual profiles to extract emails. These emails are compiled and give you a database to send targeted mails, increasing clicks and conversions. Learn more.
Sign.cc helps you to sign documents electronically, conveniently from anywhere. You do not need to physically send or receive documents in your daily business transactions with electronic signature software.
CRM.io helps you drive more sales to your business. With 500apps's CRM.io, you can build your business faster with the best cloud-based CRM software.
HR
An online presence makes it easy for you to get the brightest minds. You will be able to push your vacancy adverts to more people than you would have locally. Getting the best minds working for you would significantly improve the quality of your products and service.
The 500apps HR and Ops Suite include HRSprout and RecruitHire.
HRSprout allows your HR department to automate reviewing, shortlisting, hiring, and other HR functions. Integrating HRMS into your online business presence saves you time and effort by automating your recruitment process.
RecruitHire simplifies your recruitment process. Applicate tracking system is a cloud-based recruitment software that streamlines your hiring process. Also, the software tracks and manages your applicants.
Support
With an encompassing internet presence, you will be able to answer questions, give sales webinars, manage customer problems without any physical exertion. You can create a video, Ai chatbots or create a FAQ where customers can get information for years.
With proper online tools, you will be able to provide better service to your customers. Your clients often look for information before making a buying decision, to solve problems about a previous purchase, or research alternatives before making the buying decision. Hence, you can give them the needed information when it is required.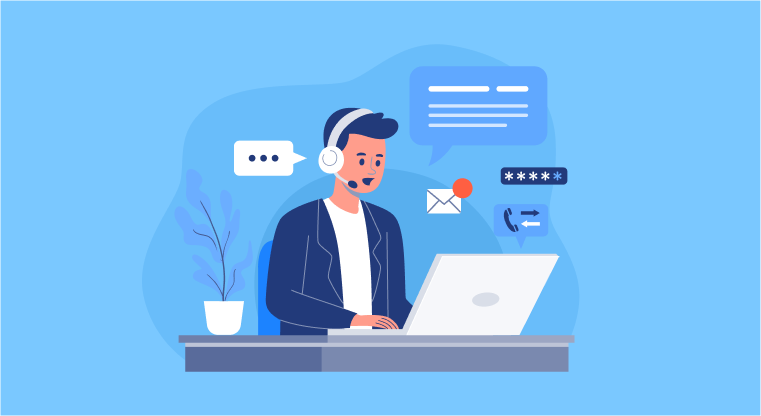 This allows you to make lesser calls to resolve technical issues and will help you make more sales. Also, you can spend more time tasking your brain on other revenue-generating opportunities.
500apps have a dedicated Support Suite to help you handle customers comfortably. The tools in the 500apps Support Suite arsenal include Support.cc and ClickDesk
Support.cc is an all-in-one software that helps you provide better and faster support for your customer. The software automates your customer service workflow by integrating it into your telephones, emails, and social media platform. You can do much more with your customers with help desk software.
ClickDesk is support software that allows you to customize your widget to interact with customers in real-time. It keeps your customer happy through live chat and video chats. Using ClickDesk will convert visitors to satisfied customers.
Marketing
Traditionally, your business is limited to the number of individuals in your immediate vicinity. Media advertisement can only do so much and keeps getting expensive. You can initiate taking your business online almost for free and place your products before the world.
With an online presence, you efficiently target the audience who needs your product—some tools filter audiences based on their searches and interests. So, you can improve your sales because your products and services are in the face of people who needs them.
Above all, you can initiate several digital marketing opportunities like advertisements, content distribution, emails, and many more to target your customers.
Integrating 500apps software into your website would help you convert your thousands of visitors into customers. The software in the Marketing Suite includes NinjaSEO, Forms.io, PushNinja, Mailsend, SiteRecording, Ninjasites, Contactspot, and Usertracker.
NinjaSEO is software that will improve the ranking of your content on search engines. You can use it to identify, fix and increase the visibility of your website in seconds. A better page score and better website performance will bring your content before more audience. Learn more about NinjaSEO tool.
Forms.io helps you build engaging forms for your website. It automates the data collection process of customers by using templates they will love. You need no coding experience to use form builder. You can integrate your forms into your website, emails, and social media outlets. With the form responses, you can make informed decisions about what your customers want and how best to provide them.
PushNinja communicates with your audience and helps you boost engagements. The software creates engaging push notifications using automation to analyze user behavior. Use Push Notification Software
Mailsend software sends newsletters and manages effective drip campaigns. You can send unlimited newsletters and customize your emails with merge fields. Ultimately, Mail marketing software helps you receive maximum engagements for your content.
SiteRecording tracks your visitors and understands how they interact with your website. It analyses the behavior of uses, optimizes their experience, and helps you increase conversion. Integrate Website Recording into your business to increase conversion. And experience how this will translate to an exponential increase in sales.
NinjaSites can build an excellent website for your business. With a simple drag and drop interface, you can quickly get your website up and online. You do not need any coding experience to use website builder, and you can easily manage your website.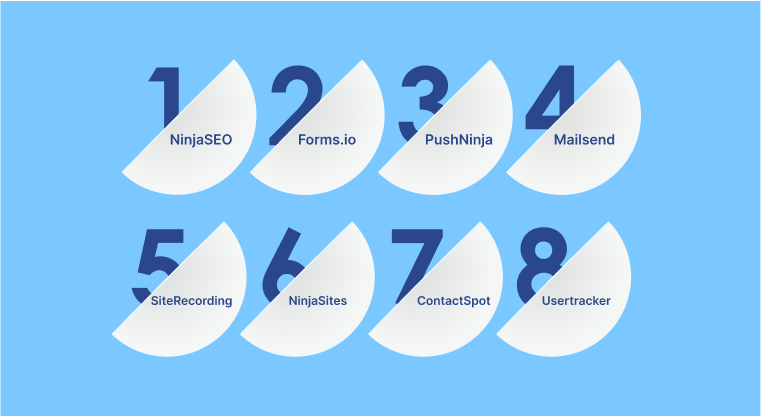 ContactSpot can automate, manage leads and make informed decisions about your marketing campaigns. ContactSpot offers you great email templates you can choose from with interactive nodes and triggers. You get to automate your email marketing with ContactSpot.
Usertracker allows you to analyze user behavior quickly. It enables you to identify feature gaps, improve customer experience, reduce churns, and remain customers. Learn more about Usertracker here.
Conclusion
The internet offers limitless possibilities for your business, and you should leverage that. Get a formidable online presence, your staff will be grateful, your customers will be happy, and your business will reach new bounds.
Having a website is just a step; you need a full-blown online presence to maximize its potentials. That is why I recommend 500apps. They cover all the software your business needs to reach new heights. You can initiate their all-in-one strategy by visiting 500apps.
"500apps is an excellent tool for niche-specific coaches, business development executives, and professionals. It is a timely, value-propositioned offer that performs and delivers quality data compared with other industry options. It aggregates the most accurate data at your fingertips, connecting you with decision-makers and their confidants" – Stone Gye
Why Choose 500apps?
#1
All-in-One Suite with more than 50 apps
#2
Everything you need today and in the future for all departments
#3
Unbelievable value - the lowest pricing you will ever find
#4
Hosted in 6 locations for compliance and blazing speeds
#5
24/5 Support - FREE chat, email and phone
#6
Uncapped features - limits you will never reach humanly
#7
Managed and maintained everyday by a dedicated team
#8
No downtime - comes with a 99.9% uptime guarantee
#9
Supports a number of international languages
#10
We've everything covered - 90k+ trust us with their business
Join the SaaS Revolution
All-in-One Suite of 50 apps

Unbelievable pricing - $14.99/user

24/5 Chat, Phone and Email Support