9 Best Functions of Chatbot Software
Chatbot Software is currently one of the most powerful services offered. Businesses are growing and need digitized assistants to handle time-consuming chores.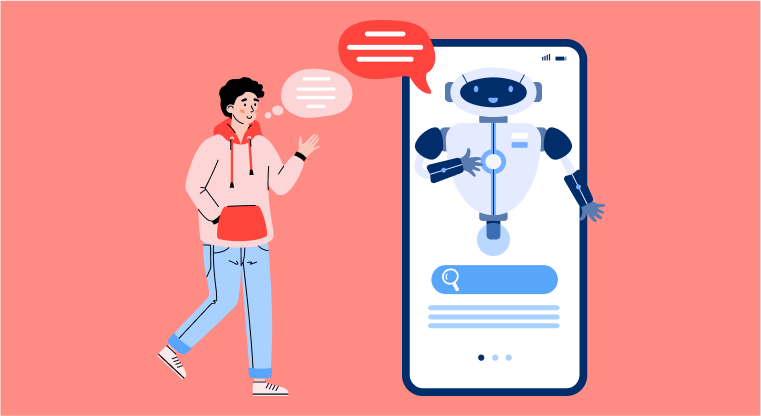 According to a report by Chatbots Life, "there are a reported 265 Billion Customer Requests, and Businesses spend nearly $1.3 trillion to service these requests. However, Using Chatbots can help you save up to 30% of this spending."
For those who are hearing about chatbots software for the first time, it is a program or series of programs powered by artificial intelligence, rules, and instructions which generate a virtual interaction with users via a chat interface. It has been developed to interact with customers and users like a human being on another end.
In a tweet by Rester Pasion, A chatbot is an artificial intelligence (AI) software that can simulate a conversation (or a chat) with a user in natural language through messaging applications. A chatbot is often described as one of the most advanced interactions between humans and machines.
Chatbot Software for business has been designed to answer basic questions about your business, provide insights into the products and services rendered in your organization. The integration of Chatbot Software has made it easy to set frequently asked questions and their answers to enable new and existing customers to satisfy their curiosity in respect to your business organization.
Functions of a Chatbot Software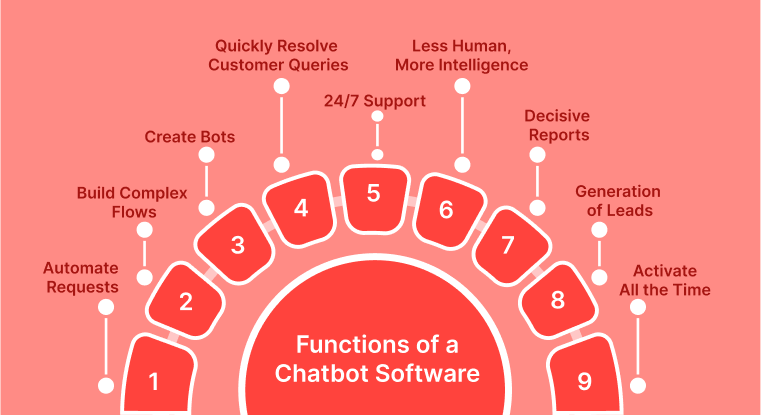 1. Automate Requests
Chatbot software is developed to automate customer requests and generate responses or feedback. The first task that a chatbot performs is that it analyzes users' requests, identifies the intent of the user and automates the requests with its machine language, and extracts the relevant information to generate feedback.
When a user sends a request to an organization either via their website, mobile app, social messaging platform, or other media, the chat or software immediately automates this request and acts on it. Most times, In automating requests, chatbots help process your request or inquiries by routing them through your previous activities on the internet to provide the most timely feedback.
2. Build Complex Flows
Chatbot flows are the structures or arrangements of how a conversation or interaction will occur between the chatbot for business and the customer. This flow includes the series of paths that the chatbot will direct the conversation, the questions that the chatbot software will ask, and the directions that the customer's feedback would lead to.
These flows are complex because they consist of nodes used to display, analyze, request, and process information and responses. These nodes have also been developed to enable your chatbot software to integrate with app integration software.
Get Started With the Best ChatBot Software Today! Sign Up 14 Day Trial
The purpose of the chatbot software, the organization's target audience, their needs, customer behavior, and your bot personality are some of the conditions a chatbot for business considers before developing its flows. In building complex flows, the chatbot uses Display information nodes, data input nodes, processing nodes, and integration nodes.
3. Create Bots
According to Kaspersky, " bot is a software program that performs automated, repetitive and predefined tasks. Bots are designed to imitate human behavior. However, they operate and execute tasks faster than humans. While there are bots that carry out valuable functions such as indexing search engines and customer support services, some bots are in the form of malware.
When chatbots are used to create bots, they are used for valuable functions. These bots are programmed to simulate human interaction and respond to specific phrases. They are made of algorithms that enable these bots to carry out different tasks.
For a chatbot software, it creates bots that give customers or potential clients pre-defined prompts to choose from, use machine language to learn, pick up general keywords, use pattern matching and natural language tools to guide the chatbot for business in simulating the conversation.
4. Quickly Resolve Customer Queries
When Bernard Marr said " Today, organizations are becoming more comfortable with the idea of integrating chatbots and intelligent assistants into their processes, and confident that it will lead to improvements in efficiency and customer satisfaction."
Chatbots software has been developed to give automated answers to customer questions and queries in real-time. Most times, there are several customers to attend to. The customer service chatbot is overwhelmed, but chatbots facilitate smooth interaction with the customers to resolve their queries.
Sometimes, the queries and requests might be ambiguous for the chatbots to process or give timely feedback to the customer; in this situation, a powerful chatbot redirects the customer's query to the support service for a better solution.
5. 24/7 Support
Customer service is an essential aspect of the day-to-day activities of a business organization. Customers may need to get across to the customer representative of an organization at any time. You can encounter problems or be stuck while using a product or service in the middle of the night, but do not panic. The chatbots have been designed to help resolve the issues or forward them to the appropriate quarters immediately.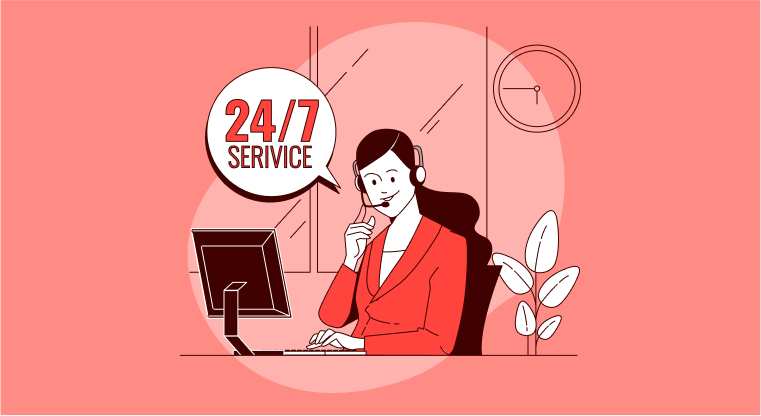 Irrespective of the time the customer sends their request, a chatbot is always available to process it. The chatbots can work round the clock, and they are powered by artificial intelligence and machine languages that do not rest or sleep. Whatever time you need the support of the technical team or customer service in an organization, the Chatbot is always available.
6. Less Human, More Intelligence
Chatbot software is made of rule-based and intellectually independent tools. They are programmed using algorithms from start to finish. They do not need much supervision and perform excellently. Conversations made with a chatbot are error-free and tailored towards customers' choice; a series of back-end research is ongoing to ensure the interaction leads to customer satisfaction.
For traditional customer service, those in charge are prone to mistakes and errors. Sometimes, they find it challenging to provide the needed assistance to the customer's complaint, and other times, they do not generate accurate feedback or response. This is not the case with chatbot software.
Chatbot software by 500apps, for example, displays a high level of intelligence during interaction with customers. They are made of Artificial Intelligence that works faster than the human brain, and they tailor the conversations towards previous activities of the customer on the internet, most suggestions made are perfect for the customers.
Chatbots do not need monitoring; they require less supervision and are manned by expertise. Once it has been launched, it performs its functions accurately.
7. Decisive Reports
Chatbots for business are primarily designed to communicate and interact with customers on behalf of the organization. With this interaction, feedback is generated regularly. This feedback is used in making decisive reports to help in the decision-making of the organization.
Chatbots are also used to monitor and track consumer behaviors and purchasing patterns. The result of this real time employee monitoring tools are used to form a report which will be used in making some critical decisions in the organization such as which products to market, which products to give priority to, which products to improve its marketing and advertising etc.
Reports generated via chatbots are used in decision-making in an organization. These reports form part of the annual report in an organization and are used to measure whether the business organization is growing compared to previous years.
8. Generation of Leads
Interactions between potential customers and chatbots for business are referred to as personalized messages. These messages contain information that the chatbot uses in leading the conversation to the direction whereby it generates a lead for the business organization.
Chatbots for business are designed with artificial intelligence to ask questions related to the goods and services rendered by a business organization, persuade the potential customer by analyzing the mouth-watering packages available for customers, and generate leads for the organization.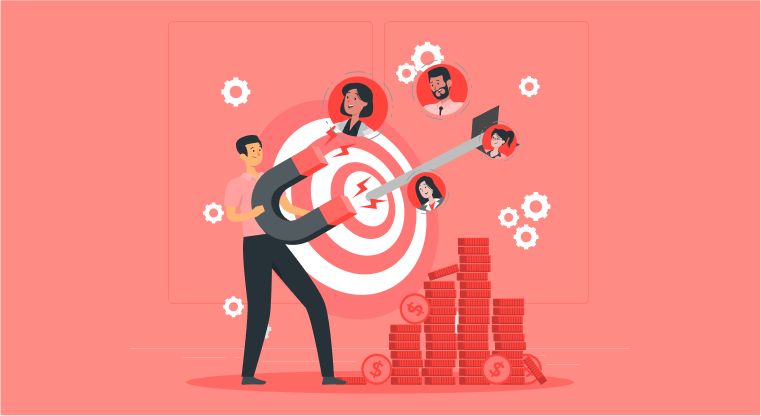 Most times, these potential customers are out there looking for the best goods and services to patronize; they start the conversation with chatbots with the mindset of getting the required information; the chatbot filters this information and takes charge in convincing the leads that they are in the right place.
9. Deploy Anywhere, Activate All the Time
For a business organization that operates across the globe, whose customers and business partners are scattered worldwide, the best form of customer service is the chatbot for business.
Chatbot for business can be deployed and monitored at your convenient location to take care of customer complaints and generate feedback from anywhere. For business organizations whose customers are of diverse languages and practices, your ai chatbot software can be designed to simulate conversation in these languages at ease.
Also, chatbots for businesses are always available to receive customer complaints and act on them immediately. Chatbots for businesses, are always open 24-hours, 7days. They are always ready to start conversations and provide the necessary solution or redirect you to the appropriate channel.
This feature is one of the reasons why chatbot software is being integrated into organizational activities. Even while the business is closed for the day, the chatbot is still working and receiving customer requests. They neither fall asleep nor shut down except during maintenance or upgrade.
Conclusion
According to Christie Pitts, " Chatbots represent a new trend in how people access information, make decisions and communicate."
Developing and making chatbots for business is a big task. It requires a lot of financial investment and professional expertise, but its advantages and functions to the smooth running and success of a company can not be overemphasized.
For a ready-to-use chatbot for business software such as Botup by 500apps, which has just been launched into the market, it can automate leads generation and perform customer service tasks in no time. One advantage it has over other chatbot software is that it is easy to integrate into your business working process and performs optimally. Once you purchase the app, be assured that your customer support service will improve and generate more leads.
Why Choose 500apps?
#1
All-in-One Suite with more than 50 apps
#2
Everything you need today and in the future for all departments
#3
Unbelievable value - the lowest pricing you will ever find
#4
Hosted in 6 locations for compliance and blazing speeds
#5
24/5 Support - FREE chat, email and phone
#6
Uncapped features - limits you will never reach humanly
#7
Managed and maintained everyday by a dedicated team
#8
No downtime - comes with a 99.9% uptime guarantee
#9
Supports a number of international languages
#10
We've everything covered - 90k+ trust us with their business
Join the SaaS Revolution
All-in-One Suite of 50 apps

Unbelievable pricing - $14.99/user

24/5 Chat, Phone and Email Support