How to Choose the Perfect Meeting Scheduler for Your Business
Running a business can be an overwhelming and complicated task. One of the most difficult aspects is ensuring that all meetings, conferences, and other events run smoothly. You need to have the right meeting scheduler for your business to do this effectively. With so many options available, it can be hard to know which best suits your needs, but don't worry! This article will guide you through everything you need to consider when choosing the perfect meeting scheduler for your business.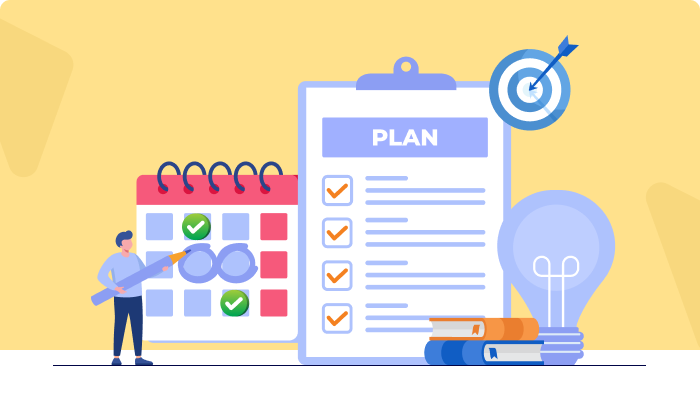 The first thing you should look at when selecting a meeting scheduler is its features: what does it offer? Does it allow for online registration? Can participants directly book time slots? Is there a way to track attendance or confirmations? Knowing the answers to these questions will help you choose the right product for your company's specific needs.
What to Consider When Choosing a Meeting Scheduler?
Choosing a meeting scheduler for your business can be an important decision. Before you decide on one, there are several factors to consider.
Determine if the scheduler is web based or automatic.
Think about special needs that must be met by the scheduler.
Evaluate customer support.
Consider the cost of the scheduler.
Consider the expected benefit of the scheduler.
Thus, when selecting a meeting scheduler, consider its web-based or automatic capabilities, special needs, and cost. Carefully evaluate each option before making a choice that best meets your company's needs.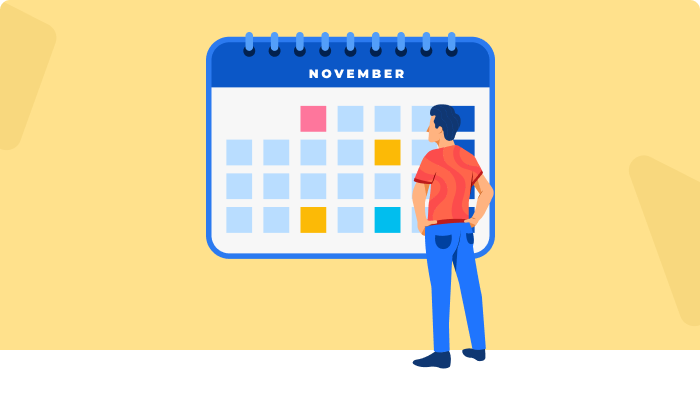 Top 10 Meeting Schedulers for Small Businesses
Choosing the right meeting scheduler for your small business can be daunting. After all, there are dozens of online scheduling apps and event-scheduling software out there and it's hard to know which one is best suited for you. To help make this process easier, we've compiled a list of the top 10 meeting schedulers available on the market today: These are just a few examples of what's available, but no matter which option you decide on, there are several key benefits every online scheduling app should have:
Automation : The ability to set up automatic reminders/notifications, so customers don't miss appointments.
Customization: Easy customization options allow users to tailor the system according to their needs (e.g., adding branding elements).
Integration: Seamless integration with other services such as Google Calendar or Outlook account access helps streamline workflow while saving time & money too!
Calendly
Calendly is a free calendar meeting scheduler that makes it easy to organize and manage meetings with your colleagues. It offers an intuitive, user-friendly interface, allowing you to quickly set up appointments without going through the hassle of back-and-forth emails or phone calls. With Calendly's automated scheduling system, you can save time by letting people choose available times for their convenience. Furthermore, this tool allows you to customize reminders, notifications and other settings so that everyone gets all the information they need in a timely manner.
What sets Calendly apart from other free calendar meeting schedulers is its ability to integrate seamlessly into popular business platforms like Google Calendar and Outlook Calendar. This means that users won't have to manually transfer data between different software programs - everything will automatically be coordinated in one place.
Doodle
Doodle is a popular web-based scheduling software used for organizing meetings with ease. The platform allows businesses to quickly and easily create inviting events, share a link to the meeting scheduler, and set up automated reminders for all participants.
With Doodle's intuitive interface, users can effortlessly design their own custom online meeting schedulers that fit their specific needs. Unlike other similar platforms, Doodle offers a variety of tools that provide more flexibility when it comes to creating an effective meeting schedule. For example, Doodle's drag-and-drop feature makes it easy to adjust dates and times as needed without having to enter information manually each time.
Google Calendar
Google Calendar is one of the most popular AI meeting schedulers for businesses. It's also a great time-meeting scheduler, providing an easy way to organize meetings and events with your team members or clients. Here are some key features that make Google Calendar stand out:
Automated reminders:Get automated notifications before upcoming meetings so you'll never miss another appointment.
Sync across devices: Easily access your calendar from anywhere, no matter your device.
Flexible scheduling options: Schedule meetings quickly by creating open availability slots and letting others pick the best time. Google Calendar offers a user-friendly platform that helps streamline meeting planning while ensuring everyone stays on top of their schedules. With its intuitive design and powerful features, it's not hard to see why this AI meeting scheduler is a hit among business teams everywhere!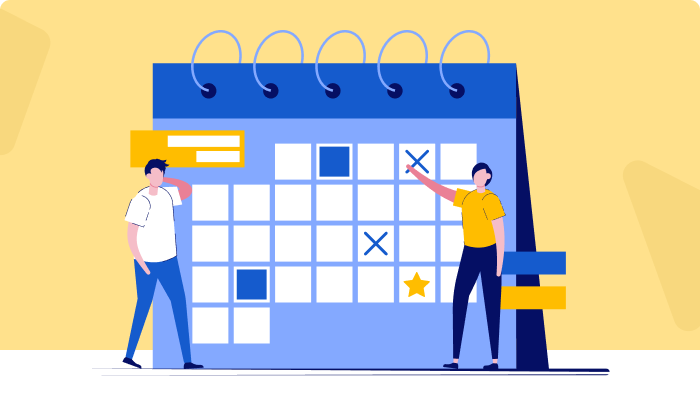 Microsoft Outlook Calendar
Microsoft Outlook Calendar is one of the best scheduling apps for businesses looking to stay organized. It's an easy-to-use platform that offers a variety of features, making it ideal for any business size or type. Here are four reasons why Microsoft Outlook Calendar should be your go-to meeting scheduler:
Quickly create events and invite attendees with just a few clicks.
The intuitive user interface for managing appointments.
Calendar-sharing capabilities for multiple people to view and manage their own tasks and schedules in real-time.
Seamless integration with other office software like Word and Excel, storing all user data in one place.
Zoom
Zoom is a great meeting scheduler for any business. It offers unlimited meetings, video conferencing and chat capabilities, allowing you to stay connected with your colleagues regardless of location. You'll also benefit from its easy-to-use interface and the ability to schedule one-on-one or group sessions quickly.
Zoom enables collaboration in real-time through its whiteboard feature, which allows participants to work on projects together. Additionally, it has integrated cloud storage so team members can easily share documents, photos and other files during their meetings.
Timebridge
Timebridge is a meeting scheduler that offers features such as automated notifications and reminders. It also allows you to customize the look of your calendar with colors, logos, and even images. This can help make it easier for you to identify which events are taking place and when. Additionally, Timebridge integrates with Google Calendar so that all of your scheduled meetings will be synced automatically.
The main advantage of using Timebridge over Zoom is its ability to find a time slot that works best for everyone involved in the meeting. Its 'find-a-time' feature allows participants to select their availability and then generates an optimal schedule based on those selections. Plus, it has options like one-click scheduling, which makes setting up quick video calls a breeze.
Acuity Scheduling
Acuity Scheduling is a powerful online meeting scheduler that provides users with flexibility and ease of use. It's a great choice for businesses that streamline their scheduling processes, offering features like automated appointment reminders and calendar integrations. With Acuity Scheduling, you can quickly set up meetings directly from your website or email signature, making coordinating events with customers and colleagues easy. The platform also allows users to customize their booking page in accordance with their brand aesthetic. From customizing the logo on the page to changing the color scheme, Acuity Scheduling ensures all customer interactions are consistent with company branding.
Inviteconnect
Inviteconnect is a powerful meeting scheduler for businesses of all sizes, offering features that make it easy to coordinate appointments and meetings. Its user-friendly interface allows you to set up and manage events quickly. Inviteconnect integrates with Google Calendar so that all your scheduled meetings will be synced automatically.
Inviteconnect makes managing meetings more efficient than ever before; whether you're hosting one-on-one consultations or large conferences with multiple participants, this tool will help streamline your entire process from start to finish.
Meetingbird
Meetingbird is another great tool for scheduling important meetings. It makes finding the right time and place easy without worrying about multiple back-and-forths between participants. Plus, features like one-click calendar syncing and automated reminders minimize opportunities for mixups or oversights. Additionally, Meetingbird provides a custom link that simplifies the process of inviting attendees, simply send this link out, and they can add their availability directly into your schedule.
When managing your business's meeting schedules, Meetingbird offers plenty of options to ensure everything runs smoothly. From customizable templates which make setting up each meeting fast and easy to detailed analytics on past events that help you spot trends over time, Meetingbird has all bases covered. And with its simple design, even those who aren't tech-savvy will be able to use it quickly and efficiently.
Schedule.cc
Schedule.cc is a meeting scheduler that can help streamline the process of arranging business meetings. It helps to make it easier and more efficient for companies to manage their calendar and book appointments with clients, partners, or team members. Its user-friendly interface allows users to quickly set up an account, create events, and invite guests in just a few clicks. Additionally, its advanced scheduling features enable users to customize their preferences for reminders and notifications about upcoming events. Here are some of the key benefits Schedule.cc offers:
Comprehensive Features
With Schedule.cc, you can easily book individual or group meetings, create forms to capture customer data before an appointment, automate reminders and notifications, so attendees stay on track, and customize event settings according to your needs. Additionally, its integration capabilities allow you to sync calendars across different platforms like Google Calendar or Outlook.
Automated Solutions
The software comes equipped with automated solutions, such as customizable booking pages that enable customers to view available time slots without contacting the business directly. Moreover, automated messages can be sent prior and post any scheduled meeting to ensure seamless communication between parties.
Easy Scheduling
Schedule.cc simplifies scheduling by allowing users to drag-and-drop appointments into their calendar from mobile devices or computers, no need for manual entry! This also prevents double-booking and ensures everyone has visibility into who's attending each session. The platform also offers automation tools to help businesses save time by automating repetitive tasks like creating recurring events or setting up custom workflows.
Conclusion
The right meeting scheduler can differentiate between a successful and unsuccessful business. No matter what size or type of business you have, plenty of great options are available to help you easily schedule meetings. The top 10 meeting schedulers for small businesses discussed in this article provide an excellent starting point when selecting the best tool for your needs.
Get started with the leading Meetings Scheduler today! Sign Up 14 Day Trial
Each one provides different features and benefits, so consider which would be most beneficial for your particular situation. Consider factors such as cost, user-friendliness, security, integration capabilities and more before making your decision. Researching each option will ensure you find the perfect solution for your company's scheduling requirements.
In conclusion, choosing a meeting scheduler is not to be taken lightly. Selecting the best tool for your specific circumstances will save you from headaches down the road. With all the amazing solutions available today, finding the ideal option should be easy if you know exactly what features and criteria you're looking for. Take advantage of free trial periods whenever possible to better understand how each meeting scheduler works before committing long-term!
Why Choose 500apps?
#1
All-in-One Suite with more than 50 apps
#2
Everything you need today and in the future for all departments
#3
Unbelievable value - the lowest pricing you will ever find
#4
Hosted in 6 locations for compliance and blazing speeds
#5
24/5 Support - FREE chat, email and phone
#6
Uncapped features - limits you will never reach humanly
#7
Managed and maintained everyday by a dedicated team
#8
No downtime - comes with a 99.9% uptime guarantee
#9
Supports a number of international languages
#10
We've everything covered - 90k+ trust us with their business
Join the SaaS Revolution
All-in-One Suite of 50 apps

Unbelievable pricing - $14.99/user

24/5 Chat, Phone and Email Support