File Sharing in the Cloud - A Comprehensive Guide
Are you ready to learn more about this powerful tool? In our comprehensive guide, we'll cover everything you need to know about file sharing in the cloud: What it is, how it works, what benefits it offers, and much more! We will even show you tips on getting started using this technology today.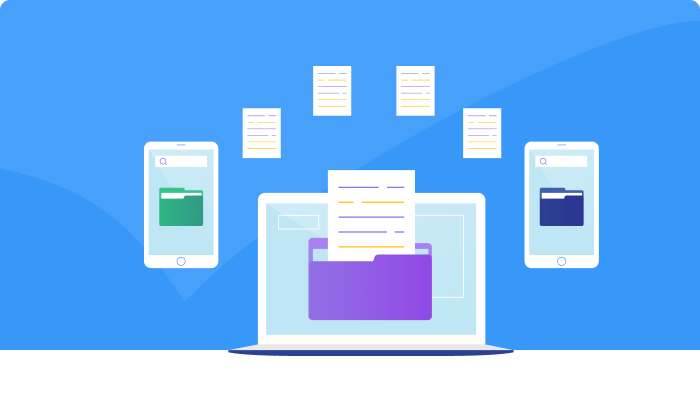 File sharing in the cloud is one of the most popular and efficient ways to store, access, and share data. It allows users to collaborate on projects from anywhere with an internet connection securely. With its convenience and security features, file sharing in the cloud has become a go-to choice for businesses and individuals worldwide.
How to Share Large Files
Sharing large files can be a challenge for many businesses and individuals. Knowing which file-sharing app or service best suits your needs can be challenging. That's why 500Box, the leading large file-sharing app, has made it easier to share larger documents and media.
500Box uses the latest cloud technology to enable users to upload their data from any device securely. Its intuitive platform allows you to quickly select multiple files at once with ease, making it one of the Best File Transfer Services available today. Furthermore, it offers real-time tracking and notifications, so you always control who accesses your shared content. All this ensures that your important information remains secure when sending large files over the internet.
At 500Box, we understand how vital it is for people to reliably send large files without worrying about security issues. That's why our comprehensive system is designed to ensure you don't have any problems during transfer. With its easy-to-use interface and advanced features, 500Box provides an efficient solution for all types of digital file transfers - regardless of size!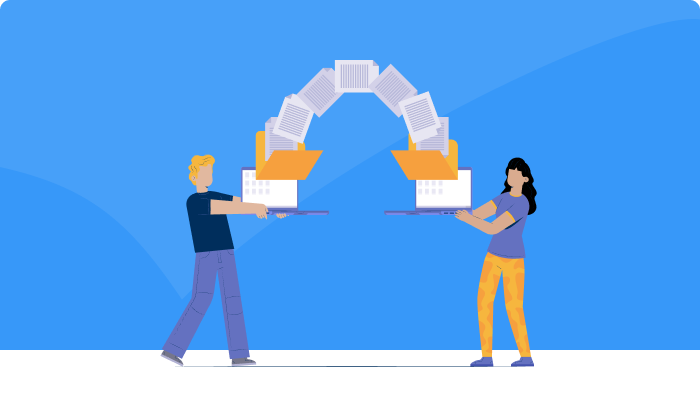 How to Get Started with Sharing Files Professionally
Getting started with file sharing professionally doesn't have to be a complicated process. With the right platform, you can securely share large files. 500Box is an excellent choice for those who want to start sharing safely in the cloud.
500Box makes it simple to get up and run with secure file storage and professional-level file-sharing capabilities. It allows users to store data in a centralized location that is both private and accessible across multiple devices. This means no more worrying about where your important documents are stored or how they're being shared! Additionally, because all your data is backed up on its servers, you never need to worry about losing any important information again.
The best part? All of this security comes with ease of use - 500Box's intuitive interface ensures that anyone can quickly learn how to share their files professionally without spending hours learning complex systems. Moreover, its advanced features, such as collaboration tools, make it ideal for businesses looking to streamline their processes while maintaining control over sensitive content.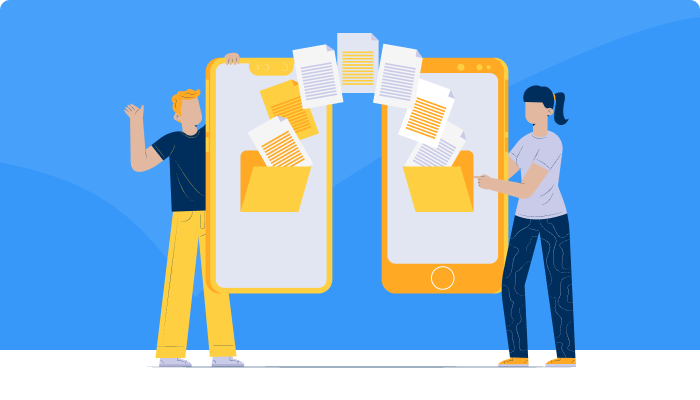 11 Top Benefits of File Sharing On Cloud
Sharing files on the cloud has become a popular way to work collaboratively, store documents safely and securely, and access them from any device. Numerous benefits come with using file-sharing services through the cloud, let's look at 11 of them.
Improved Collaboration
Cloud file storage and file sharing can offer many advantages to businesses of all sizes. Improved collaboration is just one of the benefits that cloud-based platforms provide. With 500Box, users have access to an easy-to-use platform for efficient file sharing with colleagues no matter where they are located.
The ability to quickly share large files between multiple parties makes it easier for teams to collaborate in real-time from anywhere in the world. Team members can easily post updates or comments on any shared documents, ensuring everyone stays up-to-date on project progress without endless emails or phone calls. Furthermore, team leaders have access to powerful analytics tools which allow them to monitor usage and performance across their organization, so everyone remains productive and on track.
Increased Efficiency
Using cloud storage systems for online file sharing is a great way to increase efficiency in the workplace. 500Box's secure cloud storage system enables users to access, share and collaborate on files from any device at any time. This means that regardless of whether someone works remotely or in an office environment, they can be sure that their documents are always up-to-date and easily accessible with just one click.
Using 500Box's cloud storage solution also provides businesses with added benefits such as automated backups, data protection and enhanced collaboration features. Not only does this make it easier to store important documents securely, but it also makes it simpler for teams to communicate effectively despite being located in different locations.
Improved Security
Security is a major concern for any organization regarding file sharing in the cloud. Fortunately, there are now several top-rated apps that can help organizations protect their sensitive data. One such app is 500Box, which offers comprehensive security features, including encryption and multi-factor authentication.
500Box provides high levels of protection against malicious attacks while also allowing users to control who has access to their files and how they can be shared. Additionally, as an easy-to-use platform, employees don't need advanced technical skills to use it securely, making safe file sharing accessible across all teams within an organization.
Cost Savings
Regarding cost savings, cloud-based file sharing is an attractive option. Cloud computing can reduce costs significantly, as companies can forego purchasing and maintaining expensive hardware and software. In addition, businesses don't have to pay for additional resources when their usage increases. They only pay for what they need. 500Box provides a comprehensive solution that can help organizations optimize spending while providing secure storage of all their files in the cloud.
500Box offers several options designed to meet different budgeting needs. Its pricing models are flexible; users can opt for either fixed or variable rates depending on how much data they want to store or share with others. They also offer discounts on larger packages, so businesses can save even more money using 500Box's services consistently.
Easy Access
Accessing files in the cloud is becoming increasingly popular as it offers users a convenient way to store and share data. With 500Box, this process is made even easier with its intuitive platform that allows for quick access to all of your documents.
Users can easily upload files from their computer or mobile device directly into 500Box's secure servers. What's more, those who are collaborating on projects will be able to instantly view any changes made by other contributors, meaning no time is wasted waiting for updates to be sent across multiple channels. And because each file is securely stored in the cloud, you don't have to worry about losing important information if something happens to your local device.
Increased Scalability
When it comes to cloud-based file sharing, scalability is key. Businesses must ensure that the system they use can scale up or down in size according to their current needs; this is where 500Box comes in. This powerful platform offers unparalleled scalability for companies of any size looking for a comprehensive solution.
With 500Box, enterprises are able to increase the number of users and storage space as needed, without sacrificing security protocols or performance. On top of that, organizations get access to advanced features like automated backups, real-time analytics and reporting capabilities that let them keep track of their files and data usage patterns with ease. Plus, because the platform runs on distributed nodes located around the globe, companies don't need to worry about local server issues disrupting service availability.
Mobility
Mobility is a major advantage of file sharing in the cloud. By using 500Box, you can access your files from anywhere and anytime with just an internet connection. This makes it easier to quickly share information no matter where you are located or what device you're using.
With this improved mobility, users can get work done more efficiently and collaborate more effectively, even when they're on-the-go. Here's how 500Box helps you take advantage of increased mobility:
You can securely store all your critical documents in one central location without having to worry about losing them if something happens to your local device.
Quickly share any file type with colleagues who could be based worldwide.
Access files through intuitive mobile apps, so you never miss out on important updates while away from your desk.
Easily integrate existing software tools into 500Box for enhanced collaboration experiences.
Automatically sync across all devices so you don't have to manually transfer data between different machines.
These features truly make 500Box an ideal solution for those looking to benefit from the convenience of cloud-based file sharing services. With its high levels of security and reliability, it enables teams to stay connected and productive regardless of their geographic locations.
Synchronization
Synchronization is an important part of using file sharing in the cloud. It ensures that all users have access to the most up-to-date version of a file, so no time is wasted due to discrepancies between versions. 500Box offers synchronization as part of its suite of services, which makes it easy for businesses and individuals alike to access their files from any device with an internet connection.
500Box's synchronization feature allows you to set up multiple devices quickly, making collaboration simpler and faster than ever before. All changes made on one device are then automatically synced across other connected devices, even if they're not in the same physical location or network. This means teams can easily work together, regardless of where each member is located.
Automated Backups
Automated backups are a key part of file sharing in the cloud, and 500Box has solutions to make it easy. Backups allow users to save important data without having to worry about losing any information. With automated backups, this process is made even simpler - user's data will be backed up on a regular basis without them needing to do anything manually.
The advantages of automated backups go beyond just convenience: they also provide an added layer of security for your files. By backing up regularly, you'll always have access to the latest version of any document or project should something unexpected happen while working online.
To maximize these benefits, here are two actionable steps you can take when leveraging automated backup solutions from 500Box.
Backup Frequency: Make sure that all files which need protection are backed up frequently enough according to their importance and usage. This could mean daily backups for crucial projects or weekly ones for less-frequently used files.

Security Measures: Implement secure measures such as encryption and password protection for sensitive material before sending it off for storage in the cloud or other external sources. This ensures proper privacy and confidentiality standards are met at all times during the entire process.
By following these tips, you will get the most out of 500Box's automated backup services, allowing you to stay safe and organized with minimal effort!
Get started with the leading File Sharing today! Sign Up 14 Day Trial
Versatility
Versatility is a key feature of cloud-based file sharing. Whether you're looking for a way to transfer large amounts of data securely, or access files from multiple devices and locations, the 500Box platform offers solutions that are tailored to meet your needs. With features such as automated backups and easy integration with other software tools, users can maximize their productivity while keeping important information safe.
The scalability and flexibility of 500Box makes it an attractive choice for businesses that need more than just basic file sharing capabilities. Teams can collaborate on documents in real time, share files directly from their desktops, upload entire folders at once, and even store sensitive information without putting it at risk. What's more, its advanced encryption technology ensures peace of mind no matter where your business takes you.
Simplicity
When it comes to file sharing in the cloud, simplicity is key. Companies today need an easy-to-use solution that can quickly transfer data securely and efficiently. 500Box offers a straightforward approach with its suite of services for simplified cloud storage and collaboration.
The platform allows users to access files anytime and anywhere from any device or computer. It also has features like drag-and-drop functionality, real-time syncing, automated backups, document previews, shared links and more. Here are some other benefits of using 500Box:
Authentication protocols keep data secure at all times.
Easily share documents with colleagues and clients.
Access past versions of your work.
Searchable media libraries allow you to find relevant content faster.
Download multiple files simultaneously without slowing down your connection.
500Box ensures users have full control over their data while allowing them to take advantage of innovative tools designed to make file sharing quicker and simpler.
Conclusion
In conclusion, file sharing in the cloud is an efficient way to collaborate and store files. With 500Box, users can quickly and easily share large files with colleagues, customers, or partners. It also offers many benefits, such as improved collaboration; increased efficiency; synchronization; automated backups; versatility; and simplicity, making it a great choice for businesses of all sizes. The user-friendly interface makes it easy to use and navigate, allowing users to access their data anywhere in the world at any time. File sharing on the cloud is a powerful tool for those who want to take advantage of its features and ensure the secure storage of important documents.
Why Choose 500apps?
#1
All-in-One Suite with more than 50 apps
#2
Everything you need today and in the future for all departments
#3
Unbelievable value - the lowest pricing you will ever find
#4
Hosted in 6 locations for compliance and blazing speeds
#5
24/5 Support - FREE chat, email and phone
#6
Uncapped features - limits you will never reach humanly
#7
Managed and maintained everyday by a dedicated team
#8
No downtime - comes with a 99.9% uptime guarantee
#9
Supports a number of international languages
#10
We've everything covered - 90k+ trust us with their business
Join the SaaS Revolution
All-in-One Suite of 50 apps

Unbelievable pricing - $14.99/user

24/5 Chat, Phone and Email Support