Best Social Media Management Tools in 2023
Do you have too many social media profiles to manage on your own? We've got a list of the top 10 best social media management tools that you should know about in 2023.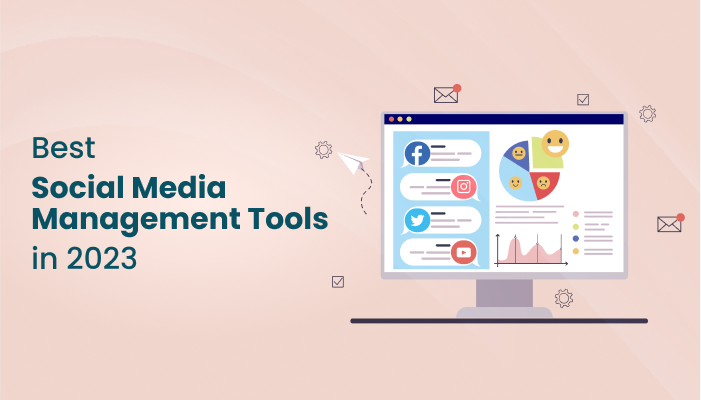 The earliest days of online communication are where social media management first emerged. To connect with one another, people initially used online forums and chat rooms. Social networking websites like MySpace and Facebook began to grow as a result. These sites enabled communication and information sharing amongst friends.
Social media's growing popularity led to businesses quickly realising its potential as a means of customer outreach and product promotion. Social media marketing and management solutions were created as a result of this. These technologies assist companies in developing and maintaining a social media presence, as well as in communicating with customers.
Today, social media management is a significant component of any company's marketing plan. It is an effective tool that can assist companies in reaching a larger audience and developing relationships with their clients.
Today's generation places a lot of importance on the developing sector of social media management. Due to the popularity of social media, businesses and organisations are realising the need for a professional social media manager. This can involve producing and publishing material, keeping an eye on and reacting to messages and comments, and keeping tabs on trends. Social media is essential because it enables businesses and organisations to interact with their followers and customers and develop a great reputation.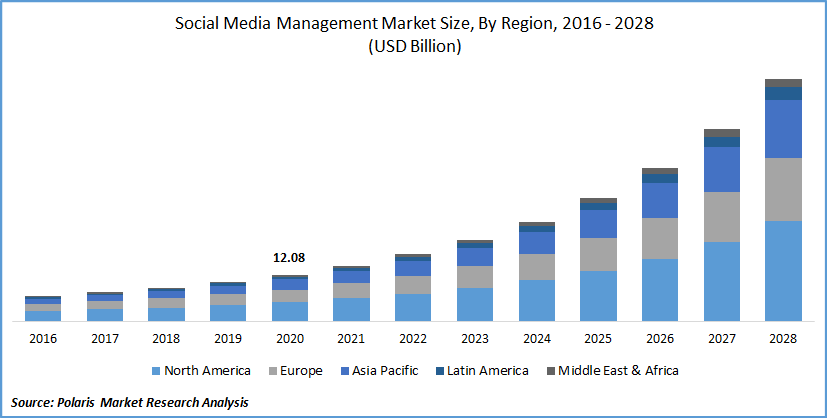 The Benefits of Social Media Management
Here are some of the more prominent benefits of social media management.
Reach a Wider Audience
Social media tools can help you reach a wider audience for your business or organization. By creating a profile on a social media site, you can connect with potential customers or clients who may be interested in what you have to offer. You can also use social media to share news and information about your business or organization with a wider audience. Increase Brand Awareness
Social media platforms offer a unique opportunity to connect with a large number of people in a short amount of time. When used correctly, social media can be an effective tool to increase brand awareness and reach new audiences.
Generate Leads
Generating leads with social media tools can be an effective way to increase your sales pipeline. It's important to remember that you need to be active on social media and engage with potential customers to see results.
Build Customer Relationships
Social media tools are a great way to build customer relationships. By engaging with customers on social media, businesses can create a rapport and build trust.
Increase Traffic
Social media tools can be used to increase traffic to a website or blog. By sharing links to your content on social media sites, you can increase the number of people who are exposed to your work.
Improve SEO
Social media tools can be a great way to improve your SEO. By using social media to create and share content, you can reach a larger audience and build authority in your field. In addition, social media can help you to get inbound links from high-quality websites, which can boost your SEO.
Reports and Analysis
Social media tools can be used to generate reports and analysis on a variety of topics. For example, Twitter can be used to track real-time conversations around a particular event or topic, and this data can be used to generate reports and analysis.
List of 10 Best Social Media Management Tools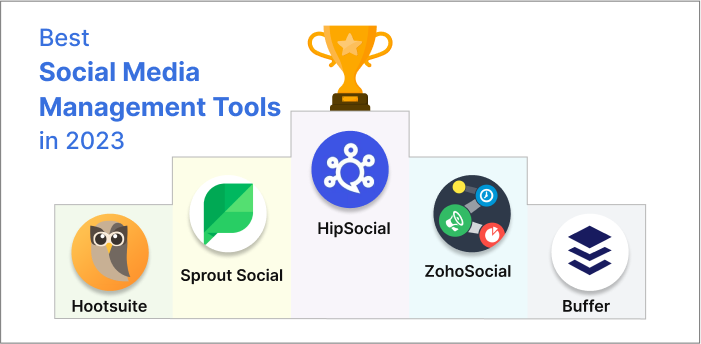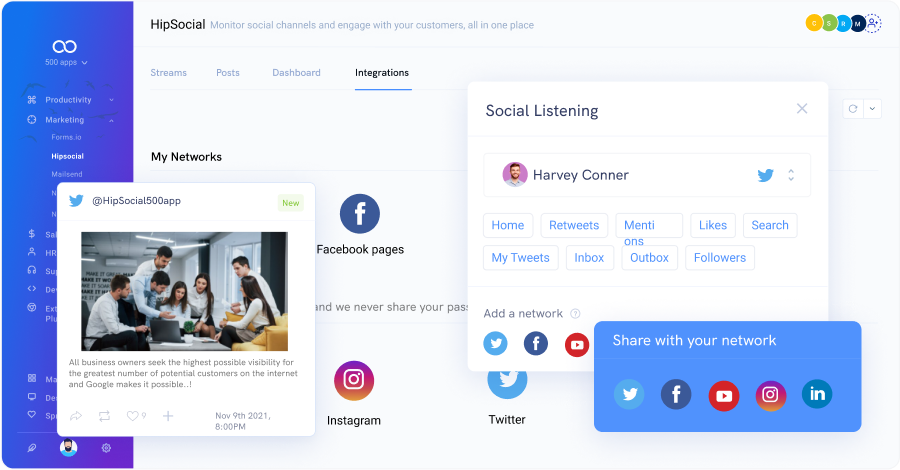 HipSocial is a social media management application that assists both people and companies in efficiently managing their social media profiles. Users are given strong capabilities to schedule and publish material, monitor engagement, and assess outcomes.
HipSocial also offers a wide selection of services to assist users in better managing their social media accounts, including automatic content posting, content curating, and social media monitoring.
Features
Multiple Networks: Integrate with leading social media sites to enable massive social activities and boost brand equity by enabling cross-promotion on various channels.

Content Scheduler: Suggest the appropriate information to users by helping to fetch the content and graphics to enable easy posting with a content scraper.

Unlimited Projects: Measure the productivity of team members by creating and tracking multiple projects for multiple clients.

Media Integration: Inspire your audience with appealing visuals, create customizable images with Pixabay, and Giphy from the asset library that helps your team plan, publish high-quality, and engaging social media content.

Approval Workflow: Empower Team Collaboration by allowing your managers to submit, assess, approve, or reject social media posts.

Social Listening: Find key conversations to connect with the right people, listen to your customers and improve your brand image.

Social Analytics: Extract actionable social media insights from the data and transform the data into action items with HipSocial.
Sprout Social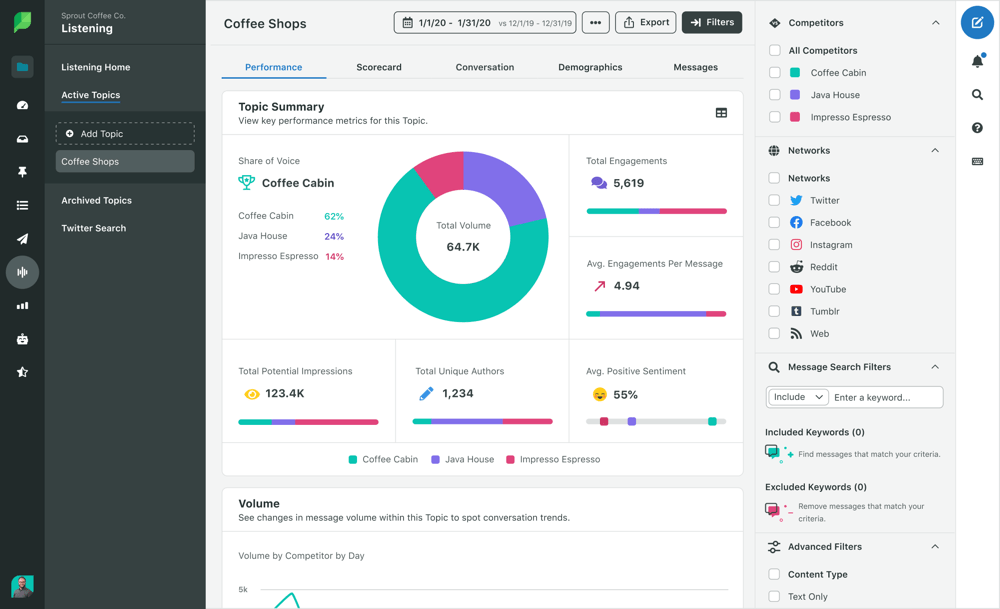 Sprout Social is a potent social media management platform that enables companies and organisations to efficiently manage their social network accounts. It offers users a variety of tools to make content, monitor participation, and assess outcomes.
Features
Monitor & Engage- Streamline and scale social monitoring and engagement efforts.

Plan & Publish- Effortlessly plan, create, manage and deliver social content and campaigns.

Report & Analyze- Drive strategic decisions using social data and analytics.

Listen & Inform- Uncover trends and extract actionable insights from social conversations.

Share & Amplify- Amplify your social reach and drive better marketing reach.
Sendible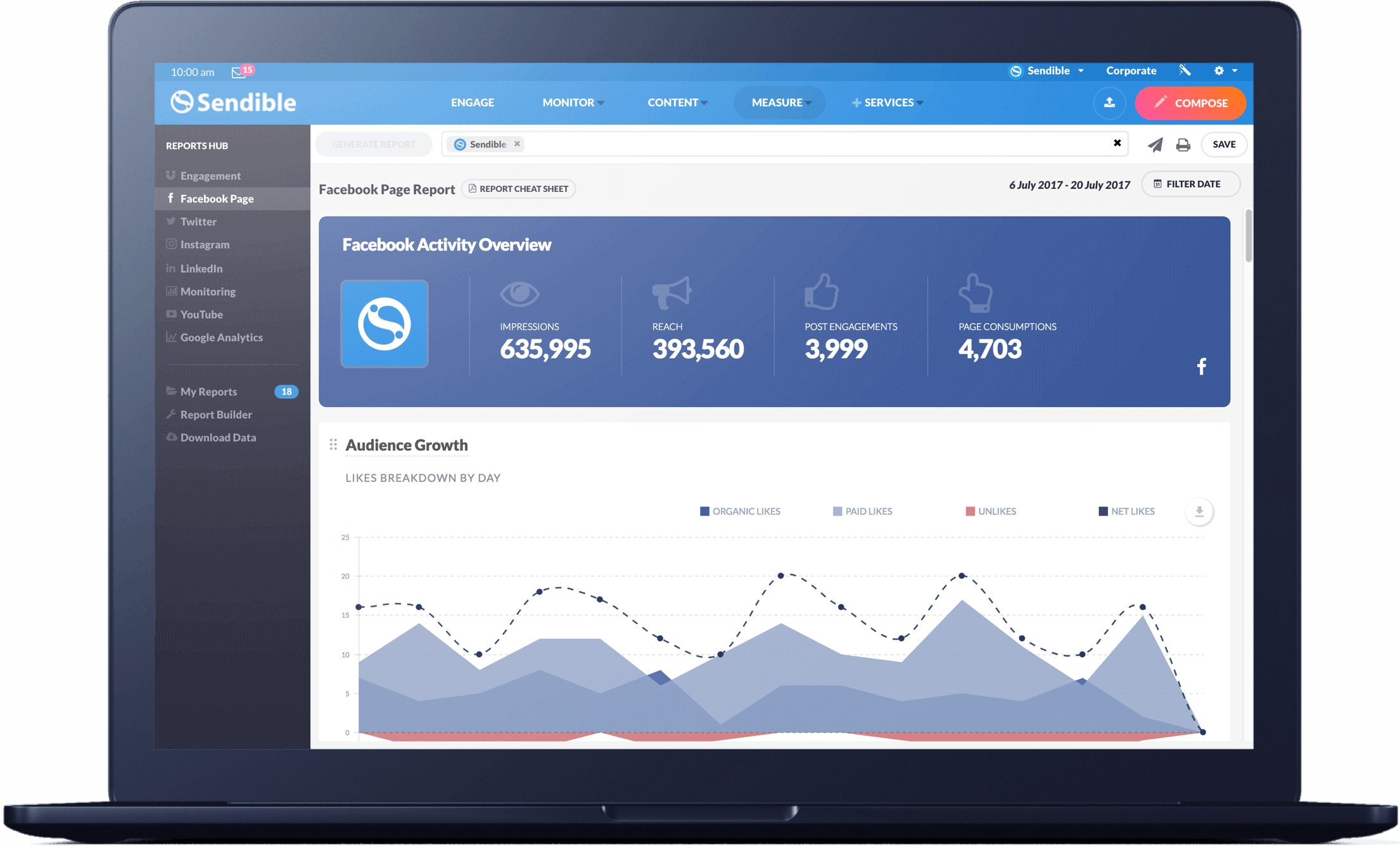 Sendible is a social media management app that allows users to manage their social media accounts, schedule their posts, and track their social media performance.
Features
Dashboard- Easily manage direct messages and comments in individual feeds.
Social Listening- Monitor your brand mentions.
Reporting- Create meaningful reports quickly.
Integrations- All key channels in one place.
White Label Dashboard- Branded tool for growing agencies.
ZOHO Social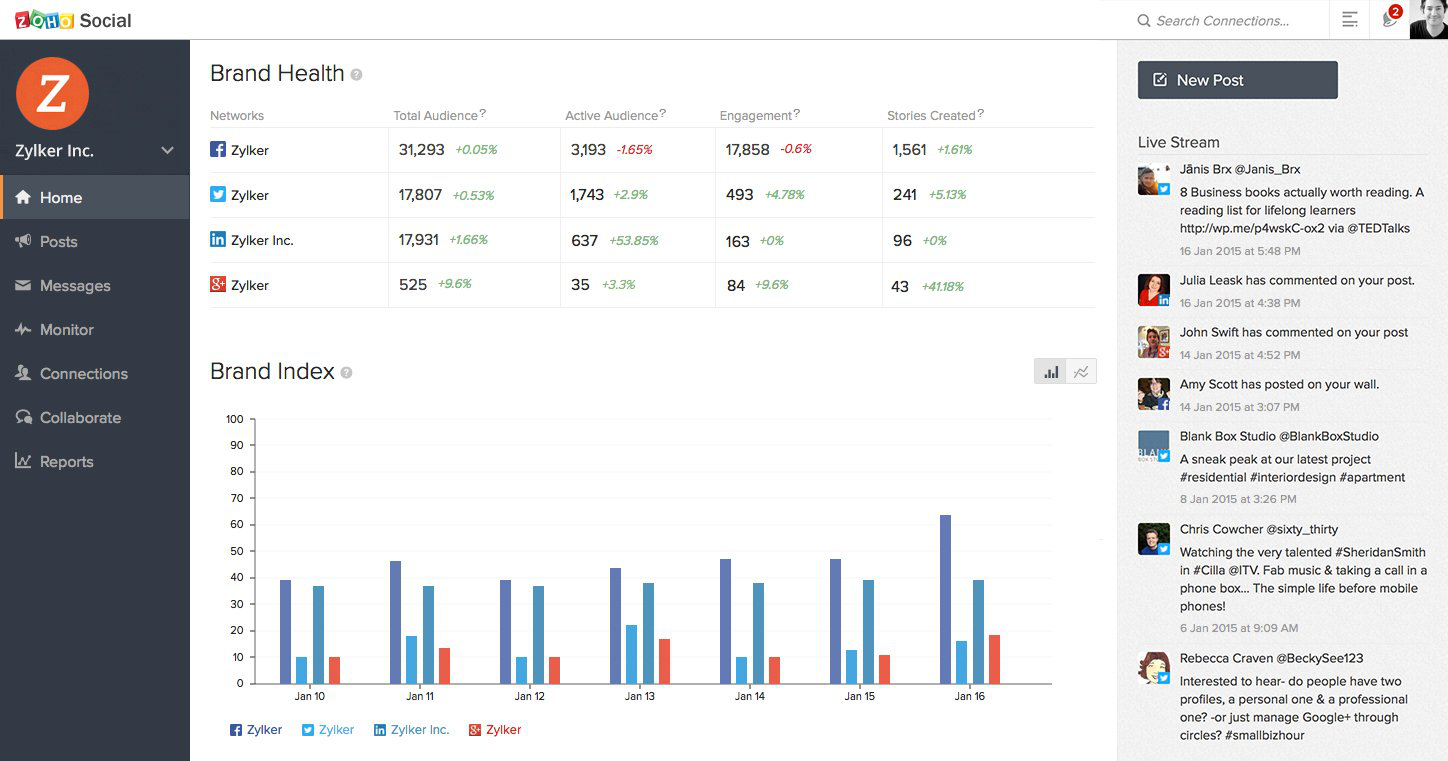 Zoho Social is a social media management tool that helps businesses grow their social media presence Users can publish material, monitor engagement, and assess outcomes thanks to it. Users of Zoho Social can also collaborate with team members, plan postings, and keep track of social media activity.
Features
Flexible Scheduling- Choose from our best-time predictions, or create your own publishing schedule.
Content Calendar- Visualize your content pipeline with an intuitive publishing calendar that lets you organize your posts the way you want.
Monitoring Dashboard- Multiple listening columns help you stay tuned to everything that's relevant.
Social Analytics- Understand who your audience is and how they engage with you on social media.
Eclicher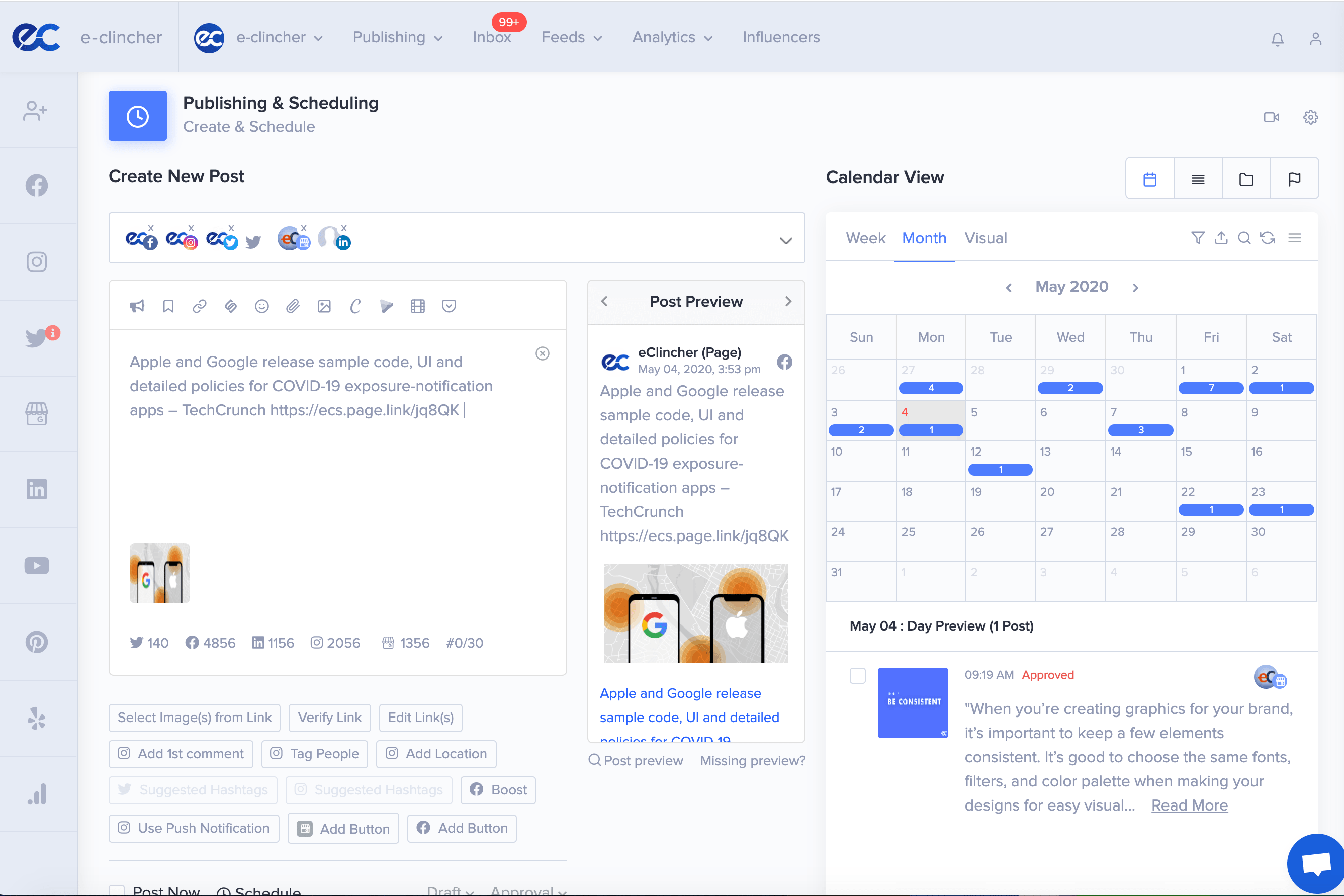 Eclicher is a platform for managing social media that helps companies and organisations take control of their online presence. Users can track and analyse their social media performance using a variety of tools that are provided to them for use in creating and managing their social media content.
Features
Reputation Management & Brand Monitoring- Get instant access to brand mentions across social, news, blogs, forums, reviews and more.
Publisher & Visual Calendar- Quick, simple, and easy ways to edit, colour-code, reuse, and delete content, as well as for workflows and team collaboration.
All-In-One Smart Inbox- Unify your social channels, live, into one single feed.
Auto Post Smart Queues- Boost your social traffic & increase engagement.
Automate posting with RSS Feeds- Modern editing tools (Image editor, Canva, Wave Video).
One-Of-A-Kind Analytics Dashboard- Utilize rich and responsive social data to inform strategic decisions.
Team & Client Collaboration- Collaboration with internal, external, and clientele is free. There are also shared calendars and approval workflows.
NapoleonCat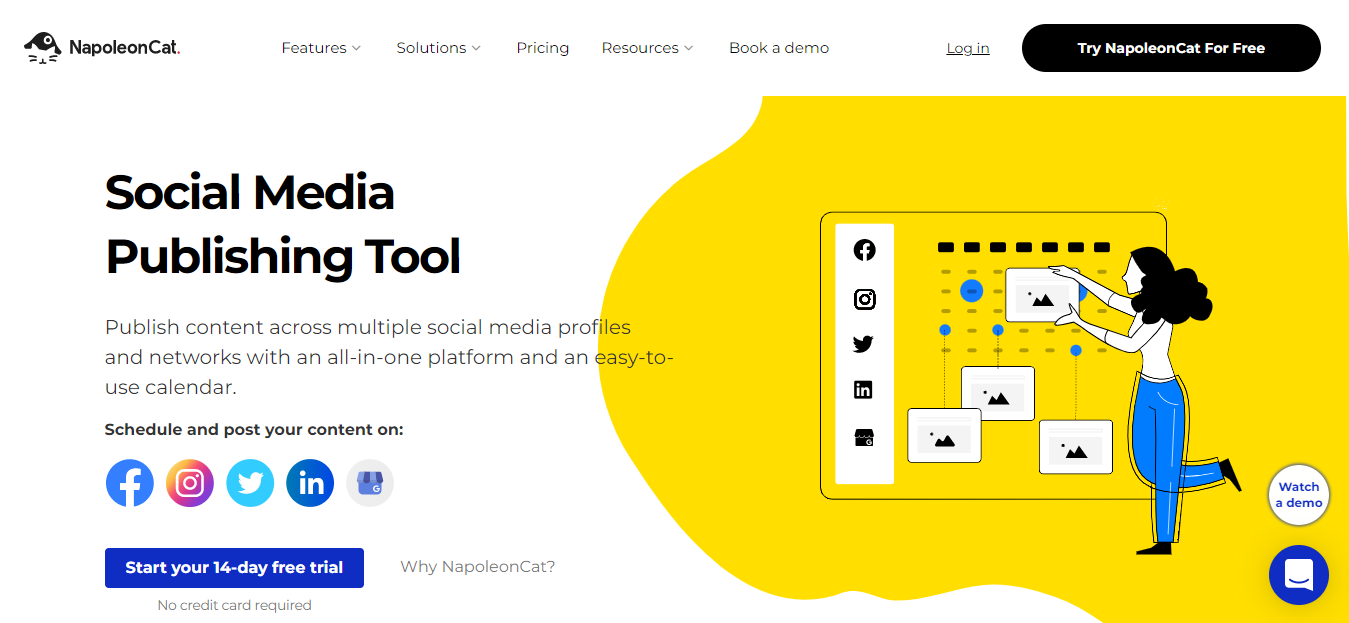 NapoleonCat is a tool for managing social media that helps businesses and organizations maintain a strong online presence. It offers customers a set of tools to assist them in managing, publishing, and measuring their social media content as well as tracking and analysing the effectiveness of their social media efforts. Additionally, NapoleonCat provides a number of tools like social media listening, reporting, and analytics to assist customers in connecting with their audience.
Features
Dedicated Inbox-To manage all social media comments, messages and reviews.
Reports and Analysis- In-depth social media reports that have been expertly produced will help you identify successes and growth opportunities.
Automation- Boosts automated Facebook and Instagram comments, which may assist in turning comments into revenue.
Buffer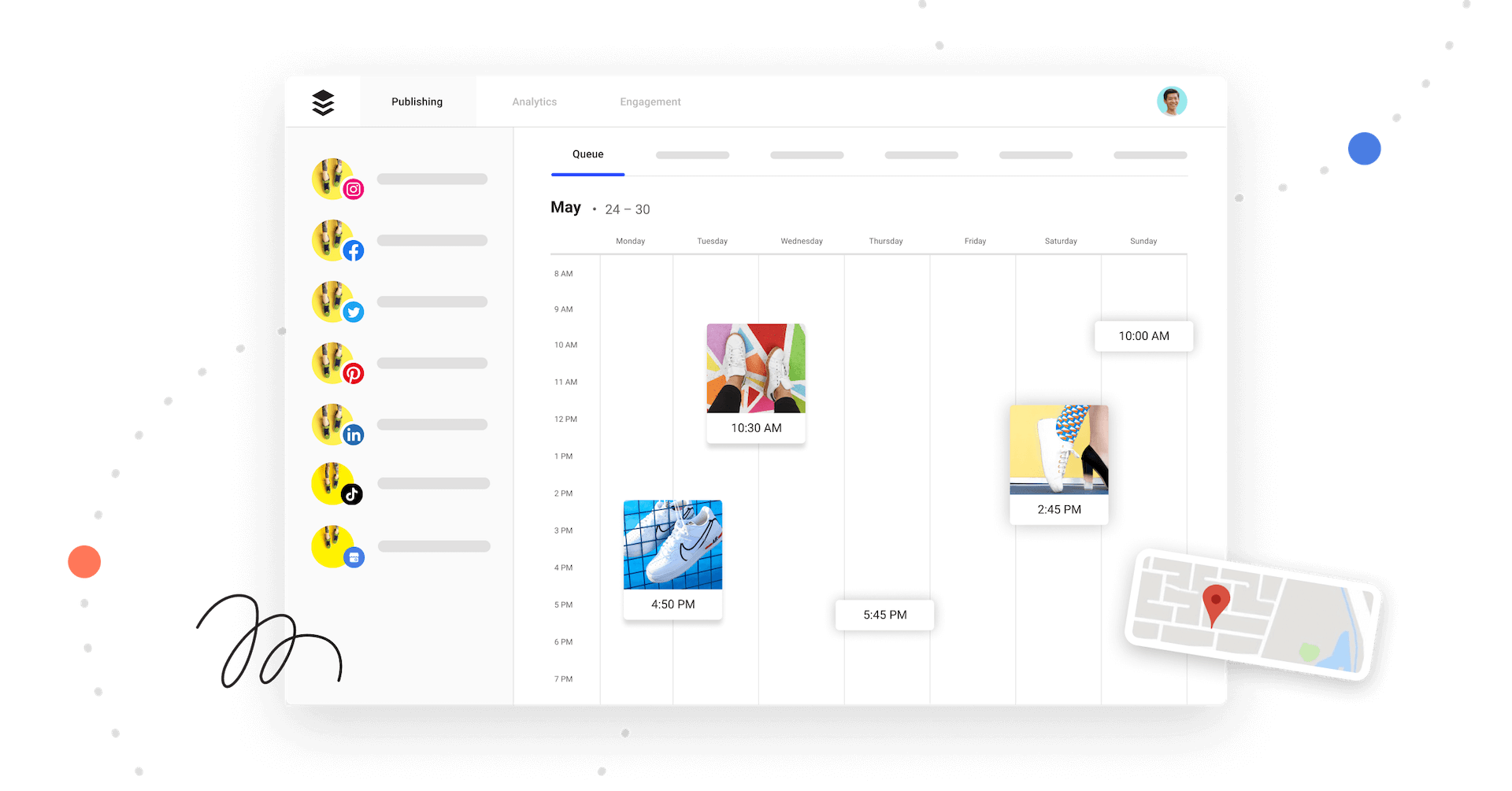 Buffer is a social media publishing and management application that enables users to plan material for publication across several social media networks. An analytics tool, a content calendar, and other capabilities are all included in the platform to assist customers in creating and managing their content. Additionally, Buffer offers a paid plan with extra features like team collaboration and social media monitoring.
Features
Custom Schedules- Boost reach and encourage more clicks.
Social Media Calendar- Create content in advance.
Buffer browser extension- Content from any website can be buffered.
Buffer Analyze- Analyze and quantify your reports.
Track your top-performing content-Recognize your most effective posts.
Native video and animated GIF support- Increase participation with moving images.
Schedule Retweets- Share retweets, Whenever possible.
Buffer Integrations- Integrate Buffer with your most-used apps.
Later
Later is a social media management tool that allows users to schedule posts for later and keep track of their social media activity. The app is available for free on the App Store and Google Play.
Features
Reels Scheduling- Plan and schedule Reels visually for automatic publication whenever you like.
Auto Publish-Instagram feed posts (single images, videos, and carousels), TikTok, Facebook, Twitter, Pinterest, and LinkedIn posts can all be published automatically.
User Generated Content- Discover and distribute the right content.
Linkin.bio- Create a miniature web page out of your Instagram and TikTok profile that includes metrics.
Analytics- Improve your social media strategy.
Hootsuite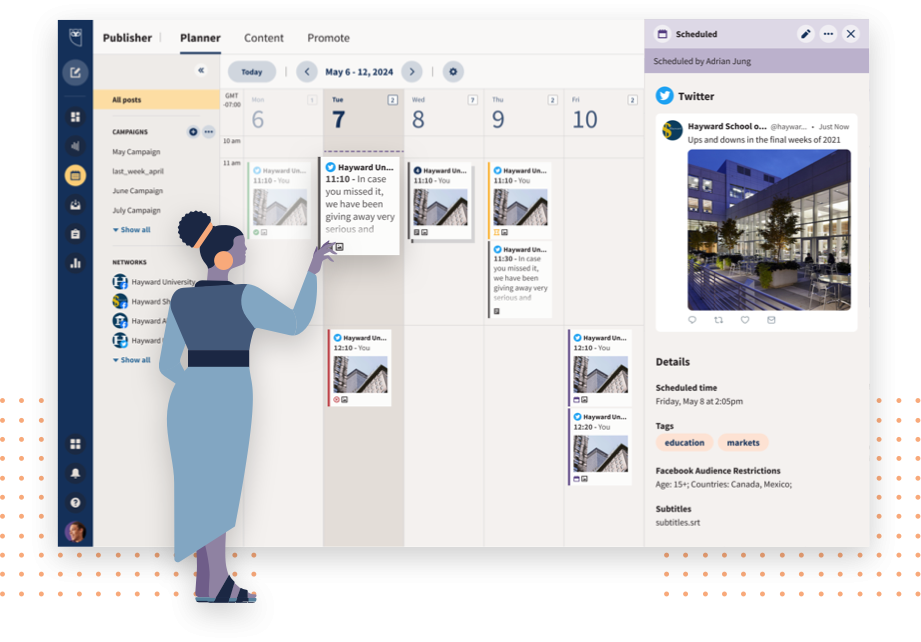 Hootsuite is a social media management application that enables users to monitor all of their social media networks in one location. Users may track who is talking about their company, submit updates, and monitor conversations using Hootsuite. Users can get insights and data from Hootsuite to understand how their social media activity is performing.
Features
Create and Schedule Posts- Plan your posts with ease.
Engage Customers- Incoming messages from various social channels can be managed.
Monitor Activity- Stay informed about market trends and competitors.
Advertise Content- Promote your own content while handling paid advertising.
Analyze Results- Analyze your outcomes across all social media.
CoSchedule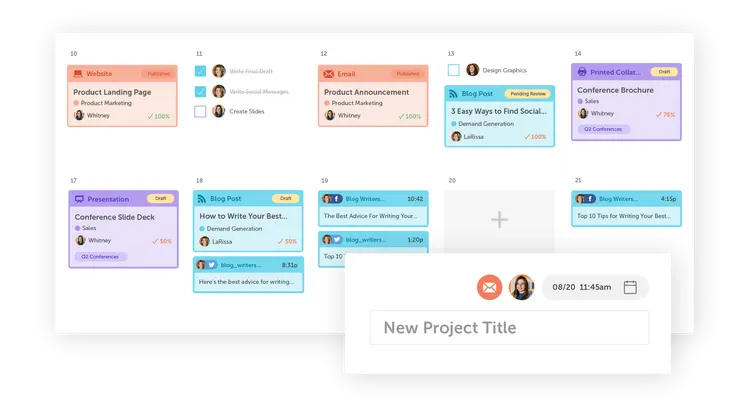 CoSchedule is a social media management solution that enables users to plan and post content across many social media networks from one single location. Additionally, it offers users reporting and analytics tools so they may evaluate the effectiveness of their social media initiatives.
Features
Custom Color Labels: Organize And Keep Track Of All The Content On Your Calendar Projects: In one location, manage everything.
Integrations: Integrate CoSchedule with your best tools.
Team Performance Reports: Gain Understanding with ONE Impactful Report (Without All That Tedious Data Collection).
Social Campaigns: Create, Execute, and Track All of Your Social Media from One Location
Bulk Social Upload: Transfer thousands of messages.
ReQueue: Make your social media accounts automatic.
Social Engagement Reports: Utilize in-app analytics to gauge the success of your social engagement.
Social Campaign Report: Specific Correlations Using Side-by-Side Comparisons.
SocialFlow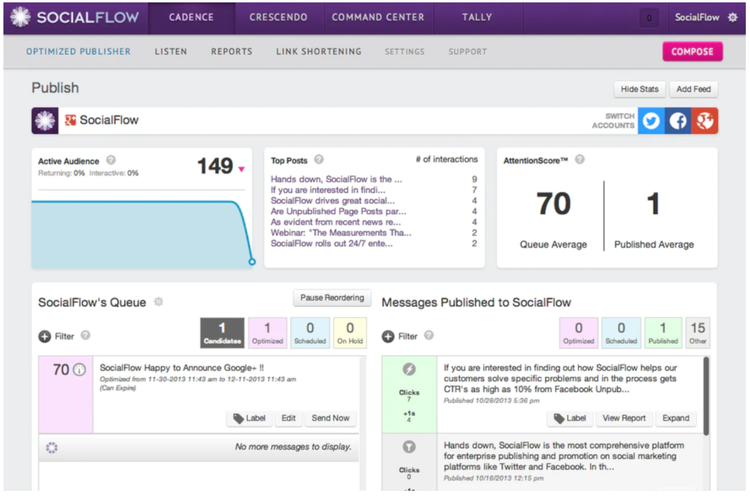 SocialFlow is a social media management tool that helps you publish content at the best possible times for maximum engagement and reach. It also gives you insights into how your content is performing and what kind of engagement it's getting so you can adjust accordingly.
Features
Content Optimization- Post the content in a manner consistent with the expected engagement rate.
Content Monetization- The capacity to monetize your work and attract sponsors.
Custom Reports- Outstanding platform for reporting and analytics in marketing.
Tailwind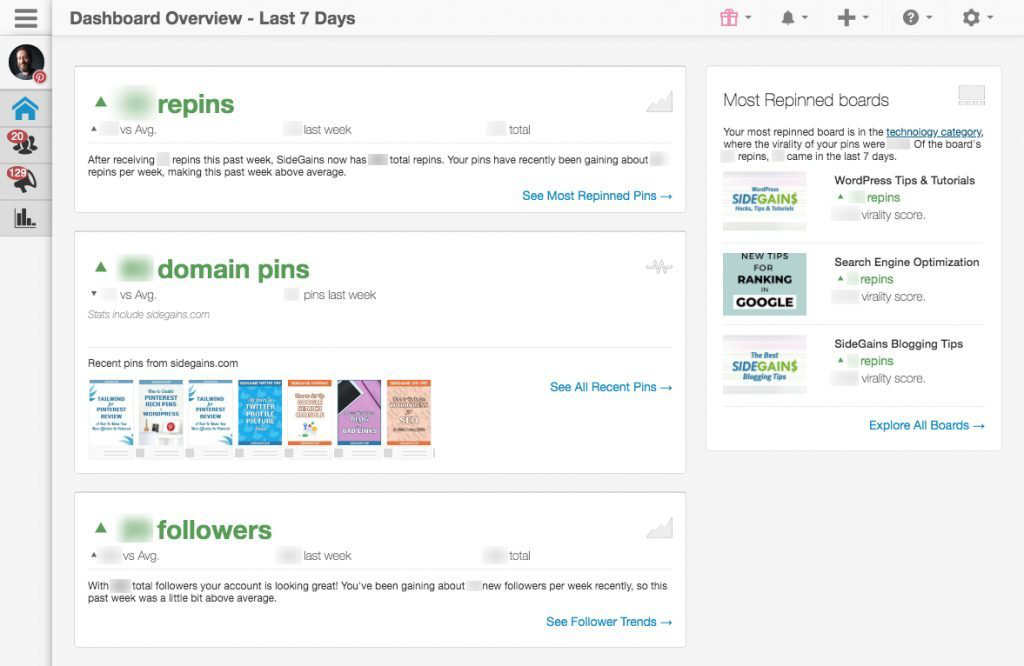 Tailwind is a social media management tool that enables businesses and individuals to better manage their online presence across all major social networks. It provides users with powerful tools to help them grow their social media following, engagement, and reach. Additionally, Tailwind offers users insights and analytics to help them further understand and optimize their social media strategy.
Features
Fancy Underline Styles-Change the underlines' color, style, thickness, and offset.
Coloured Box Shadows- Add glow, reflection effects, and more natural shadows on the coloured backgrounds.
Customized Colors- Expertly crafted default colour palette.
Arbitrary Properties- Allows adding customized CSS.
Multi-column Layout- controls the number of columns within an element.
Print Modifier- controls how your webpage looks when someone prints it.
HubSpot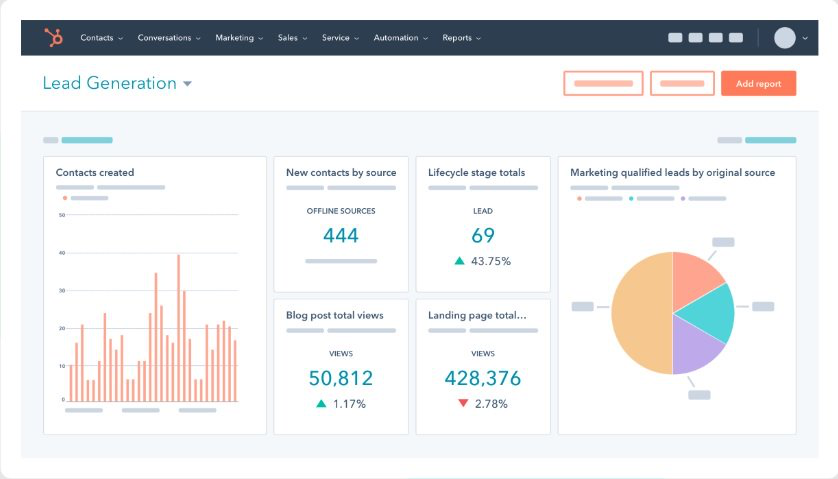 HubSpot is a social media management application that helps companies to manage all of their social media accounts in one location. It gives users access to tools that let them produce content, keep tabs on their followers, and gauge user engagement. Users may also make bespoke reports and monitor the return on their social media investment with HubSpot.
Features
Integration- Get in touch with the people you care about on each social media platform.
Social Listening-Follow social media mentions to ensure you never miss a chance to speak with important individuals.
Analyse Reports- Report on social media marketing ROI.
Manage Campaigns- Management of social media made easy.
Simplified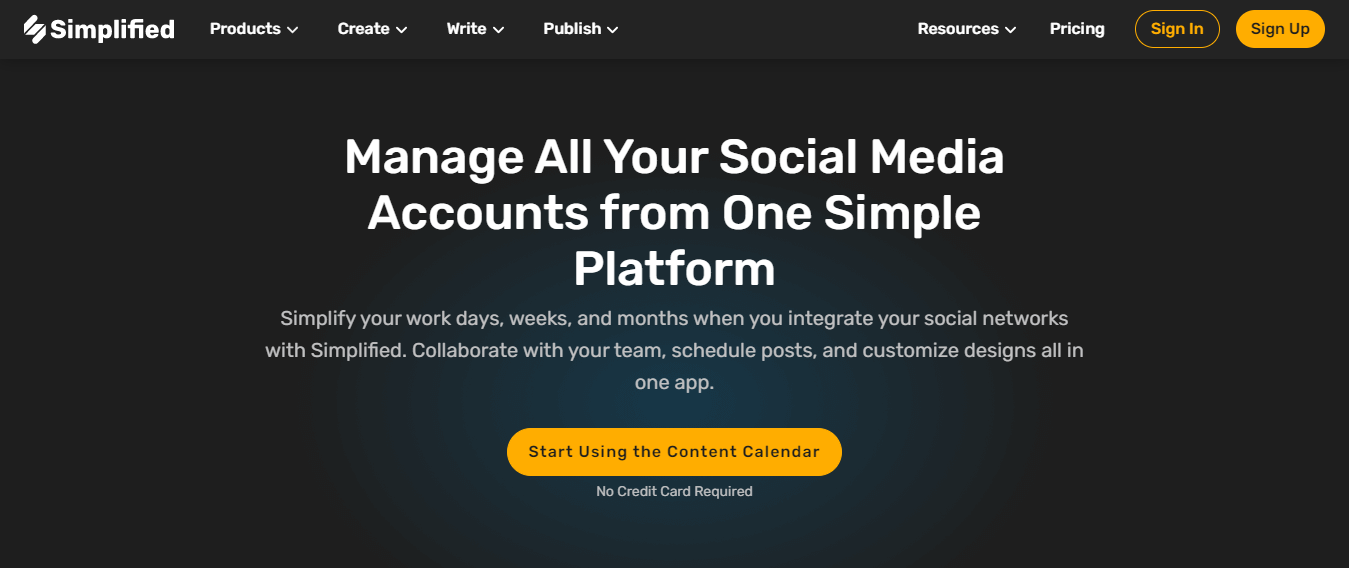 Simplified is a tool for managing social media accounts that is created to make it simple and efficient for companies and organisations to manage their social media accounts. You can post updates, track activity, and interact with your audience quickly and effortlessly using Simplified. To understand how your social media initiatives are doing, Simplified also offers users insights and data.
Features
Unlimited Workspaces- Make distinct workspaces for teams and clients. Access information should be shared with collaborators, and work should be organized.
Real-time Comments- Utilize the talent of your team by live-commenting on designs and copy.
Folders for Workflow- Utilize shared folders to cut down on time spent looking for projects and written materials.
Edgar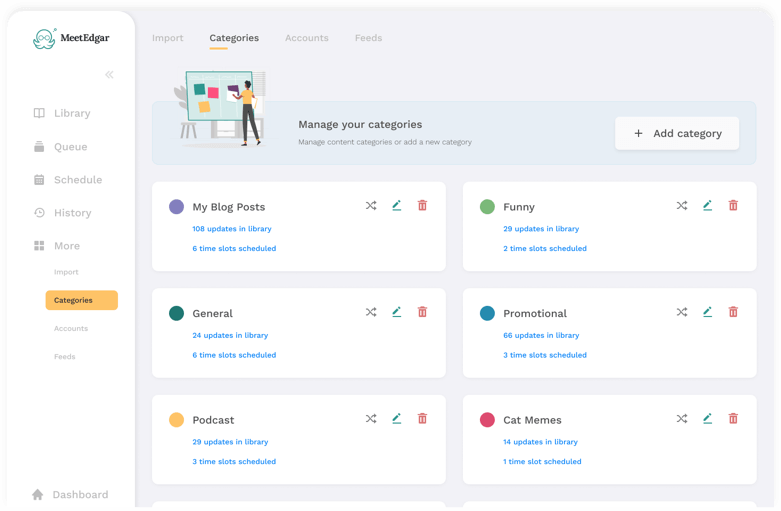 Edgar is a tool for managing social media that helps both businesses and individuals keep track of their accounts. It offers customers strong capabilities to aid in scheduling and publishing material, tracking interaction, and measuring outcomes. Additionally, Edgar makes it simple to share content across numerous social media platforms and collaborate with team members.
Features
Craft Content-Using a simple dashboard, you can plan and publish your social media campaigns.
Automates Recurring Tasks- Creates an endless library of updates that are evergreen.
Monitor your Engagement- All social networks in one location.
What's Next?
Businesses would manage their social media and marketing activities more easily if various marketing tools were combined into a single suite. This would make tracking outcomes, progress, and the overall efficacy of the marketing activity simpler.
Having a wide range of business suites, such as sales, human resources, marketing, and other departments, will help you get the most out of your technological investments and make sure that your company is operating as efficiently and successfully as possible.
Conclusion
Social media may help you connect with your audience in a meaningful way. This is a fantastic way to interact with lots of people. The ideal way to use this tool is to make advantage of the top social media management programmes. This list will help you choose the best social media management app. The ideal social media management tool is HipSocial from 500apps; It enables simple scheduling and post-monitoring for enhanced user interaction.
Visit 500apps today to find out more about our All-in-One CRM Software, which offers 50 apps for just $14.99 per user.
Why Choose 500apps?
#1
All-in-One Suite with more than 50 apps
#2
Everything you need today and in the future for all departments
#3
Unbelievable value - the lowest pricing you will ever find
#4
Hosted in 6 locations for compliance and blazing speeds
#5
24/5 Support - FREE chat, email and phone
#6
Uncapped features - limits you will never reach humanly
#7
Managed and maintained everyday by a dedicated team
#8
No downtime - comes with a 99.9% uptime guarantee
#9
Supports a number of international languages
#10
We've everything covered - 90k+ trust us with their business
Join the SaaS Revolution
All-in-One Suite of 50 apps

Unbelievable pricing - $14.99/user

24/5 Chat, Phone and Email Support